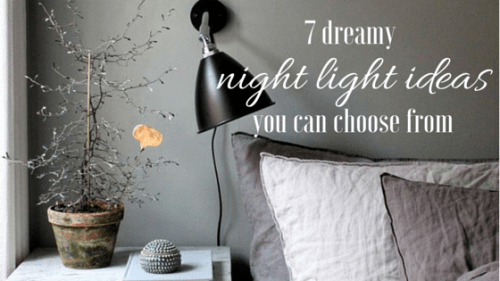 What's the last thing you see before you go to sleep every night? We don't know the answer to that. What we do know is that you couldn't have seen whatever you saw without the help of your night light! The night light is the last thing keeping your from the dark and the glowing warmness that wards off the ghouls in the dark. Night lights just reminds us of a scene from Amelie where Nino speaks to a photo clipped to his night light leading him to realize that he loves Amelie. See! Having a night light can result in you finding your one true love! There are so many different kinds of night lights out there and so many ways you can arrange them! Read this article for a run down on the trendiest night light ideas to improve your pre-slumber experience.
ONE :: Edison Bulbs
They are a big thing now and we've done up two posts on Edison bulb DIYs (here and here), so do check them out for other ideas! Edison bulbs are great night lights for the lovers of minimalism and clarity. They can be arranged in so many different ways that we're not sure if the list has ended yet. These light fixtures are also easy to style around and flexible enough to be integrated into most styles. Popular styles sporting the Edison bulbs are the Industrial and Scandinavian themes. Take a look at the awesome styles below, which is your favourite?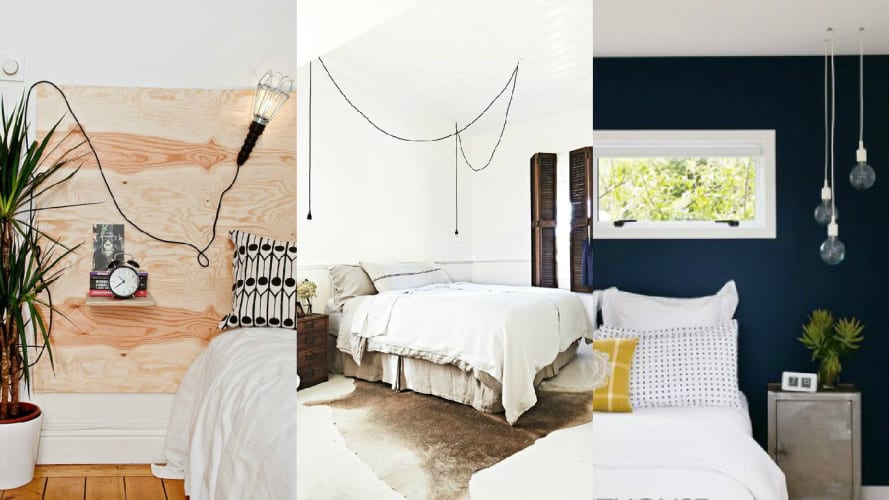 Did we forget to mention that installing Edison bulbs are such a no-brainer? Perfect for the lazy bums. Not sure where to get Edison bulbs? We've got you covered! Head on over to Screed's website to see our collection of designer Edison bulbs .
TWO :: Wall Lights
After table lamps, wall lights come in as the next most common night light. However, there's an endless list of designs and placements the wall lights can have, hence we're fixing them onto the list. First up, we have the conventional wall lights. These lights completely adhere to the wall and are not mobile (you'll understand why we brought this up later). There are countless designs for wall lights out there in the market because these babies have been here for the longest time. Screed carries a good spread of wall lights too! So… you know, check them out ok? We're especially in love with the dual funnel shaped wall light; it is able to light up the area without being too glaring.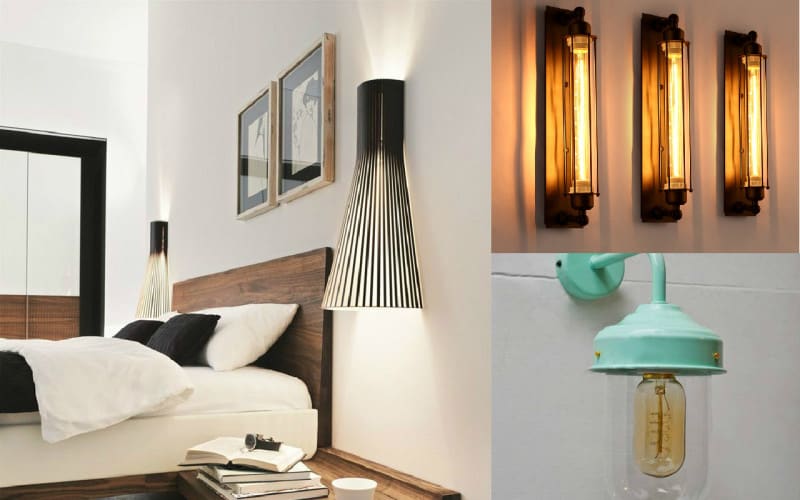 Whoa whoa! Those are Screed lights you're looking at! It's the Bermuda Triangle Pencil Wall Light and the GUNDA Coloured Industrial Street Lamp!
THREE: Hanging Wall Lights
Then we have the hanging wall lights. These are the lights are mounted to the walls but are able to extend closer to the bed. There are a few ways this can be done. If you're going for a vintage or an industrial look, you can try out the accordion light fixture that is able to extend back and forth making them a breeze to set aside.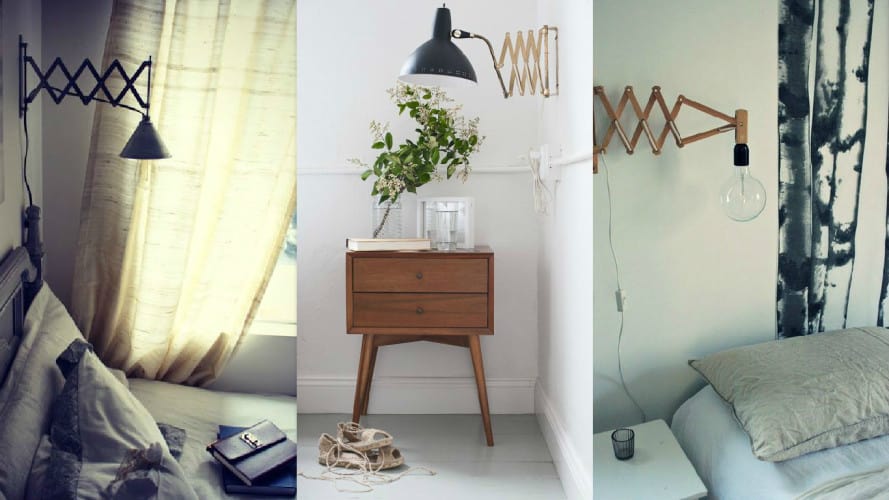 We also have extendable light fixtures that has a more delicate and dainty body as opposed to the accordion lights. We can totally picture these simple and sweet extendable lights in a modern or Scandinavian themed room hanging over a bed with little wooden frames. Isn't that a lovely image? You can always personalize your extendable lights by adorning the body with flowers, dream catchers or photo clipping. These decorations help add personality into your space and aids in integrating the night light to the rest of the environment.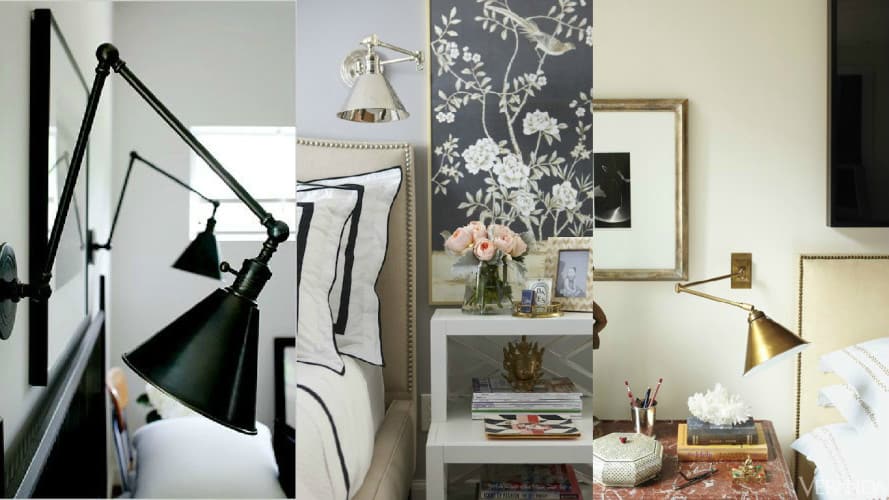 Up next: The non-mobile hanging light. These light fixtures are less common but not any less appealing! Most have simplistic designs like the fishing rob installation with an Edison bulb (left) making them great for all kinds of spaces regardless of the theme.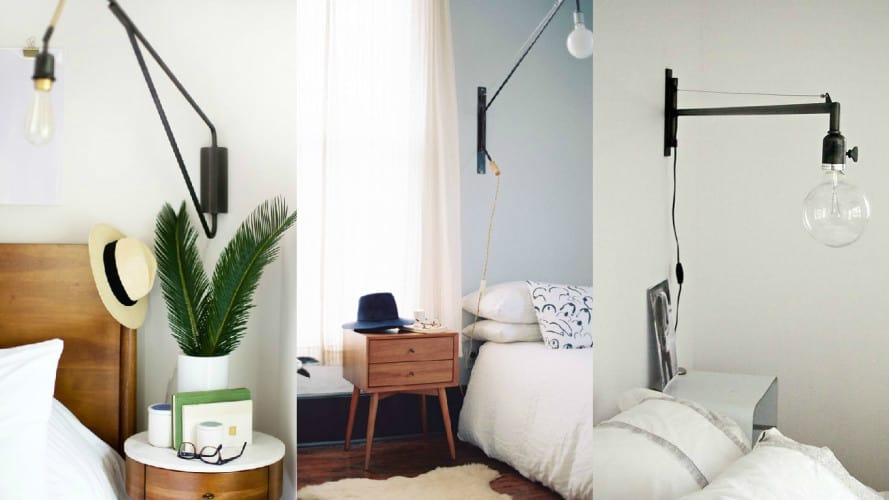 If you like those lights, we're pretty confident that the DAGNY Angler Rob Lamp is for you.
FOUR :: Clamp Lamps
If the reason you've been going for table lamps is because you do not want anything permanent on your ceiling or walls, then here's the idea made just for you! These lamps are moveable and can be attached to just about anywhere! However, there aren't a lot of clamp lamps in the market making it hard to source out. Like the hanging wall lights, clamp lamps are also able to redirect the light towards a certain spot. This lamp is very useful for children (and adults) who love reading and doing work on the bed – though they really shouldn't be doing that.
FIVE :: Candles
If you've been following us, you'd realize how candles are so absolutely versatile; able to fit just about anywhere in the home. Its soft and warm flicker is a nice, soothing glow to slip into sleep with. Especially when you get the scented ones: that's just the full experience! The smell of vanilla wafting in the air as you drift into slumber land is a precursor to a sweet, sweet dream. However, this isn't a great choice for children rooms as, well, it's fire! The last thing you've want is the SCDF waking you up in the middle of your fiery dream. Also remember that fire is hot and thus, isn't exactly fitting for those who sleep in air-conditioned rooms. Don't get sighing though! Think of it this way: Buying candles is WAY more cost effective than the electrical consumption of a/c units. It's greener too!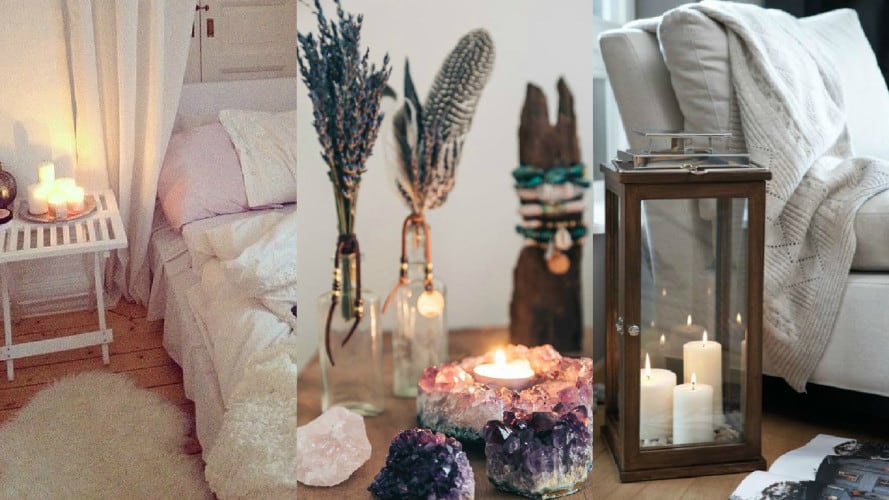 Have a Pinterest account? No? GET ONE! Yes? Follow Screed on Pinterest, we have an entire board dedicated to candle DIYs – it's cool!
SIX :: Glowing Table
We bet you didn't think that the table can double as a light fixture! Alright, alright, not ALL tables but it can work! If your bedside tables have some kind of opening to install a simple light fixture within, then you're all set. It's really that simple. Not only is this pretty darn cute, it also emits a gentler glow that coaxes you to sleep. An added bonus is how this reduces clutter by eliminating the need for a separate light fixture!
 SEVEN :: DIY Special
We do not know how many times we've mentioned these bad boys and if you're not annoyed yet, it means have you haven't read out article on string light DIYs, go see! You can give your bedroom a tumblr style makeover just by adding string lights, seriously, they make all the difference. Twine them around your headboard, line them along the table or use them to spell something out on the wall! Check out our string light article for other night light DIYs you can try.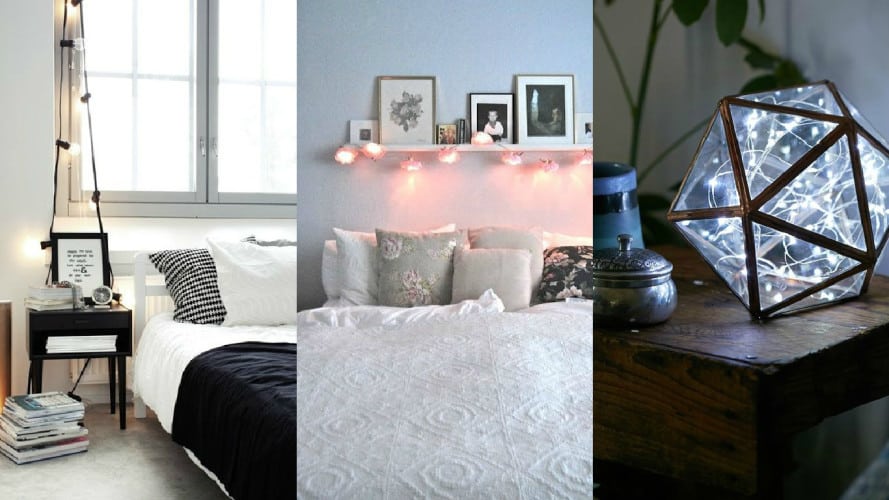 Gosh. All these dreamy ideas are probably going to keep you from waking up and it'll likely be a hundred times hard to get out of bed now. Are these ideas great? Note that we left out a few obvious ones so this post won't go on forever, can you guess which are the night light ideas we left out? Send us a picture of your bedside lighting set-up so that this list can continue growing! Don't forget to follow us on our social media and take a look at our other equally rad posts.