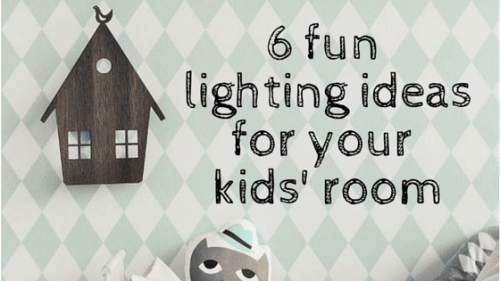 Every parent wants nothing but to watch their child live and grow happily in the best environment possible and the child's room constitutes a big portion of the said "environment". Most parents got the paint job, the furnishing and the toys down to the tee, but more often than not they seem to stop just before tackling the lights. Why is that? Because light fixtures seem insignificant? We think if you're already putting that much effort into the other parts, why not just lung forth and go all the way? You definitely do not want such a detail to keep you from the perfect kids room, right? Or maybe designing the other parts of the house has worn you down? Believe us, it ain't as tiring as raising a kid. Oops! We went there alright. But fear not, that's why this article is here! We'll save you from mental lethargy by serving up a collection of the most exciting and accessible lighting ideas for your kids room!
Read on!
ONE :: Interesting Hanging Lights
What does "Interesting" connote anyway? Well, we think you should go for light fixtures with whacky and fun designs that will resonate with some part of the child. Avoid going for designs that are too abstract and try light fixtures with a more literal and creative design. For instance, you can get a light fixture in the shape of something familiar to your child like a hot air balloon or a cloud! If you haven't noticed, these shapes are normally air borne objects! We think the hot air balloon hanging fixture will add a touch of wonder and magic to any child's room, couple it with some DIY clouds to enhancing the sky-within-your-room effect. Head on over to Alina Kelo's blog for details on the hot air balloon lamp and Tiffany Quake's YouTube Channel for her Cloud Light DIY.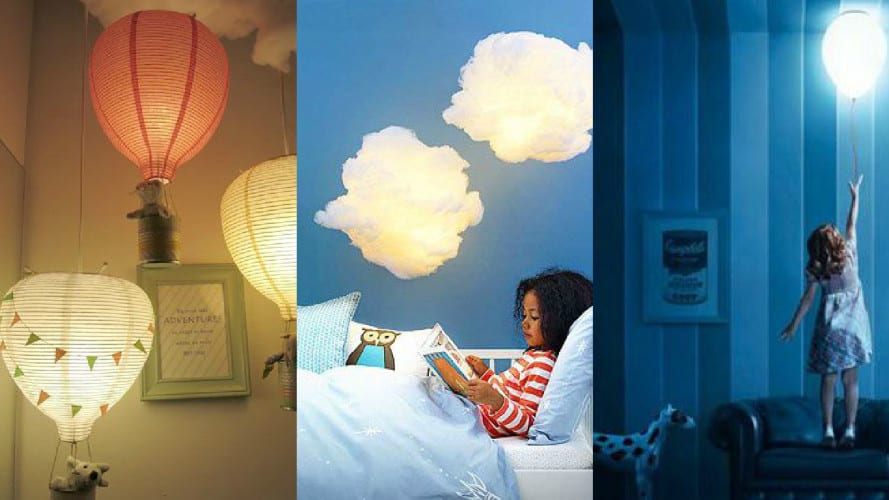 Not good with DIY projects? Fret not! You can always have fun with the balloon light fixtures purchasable from Screed's website! Our LINUS Creative Balloon Floating Lamp will make your kids room stand out!
TWO :: String Lights
Careful: We're entering DIY zone. You must be wondering how we're still able to churn out more string light DIYs even after an entire article about it! You're asking the wrong person the wrong question! Instead, you should be asking the string lights why they are so incredibly easy to work with! Take a scroll through our string lights listicle for a hoard of ideas you can, too, use for your kids room. If you're already pass that, here's a new idea specifically the child!
A tepee! It is so incredibly fun that we find ourselves wishing we were children again! You might find it tedious and way too much effort to construct an entire structure just to drape string lights but believe us, it ain't as hard as it looks! Julie Blanner made a post on an easy DIY tepee on her blog, or if you're a more video person, Kin Community offers a simple tepee DIY as well. Drape your string lights over your amazing tepee and watch the magic happen! Bonus! You can also use string lights to create a fake campfire to match your tepee!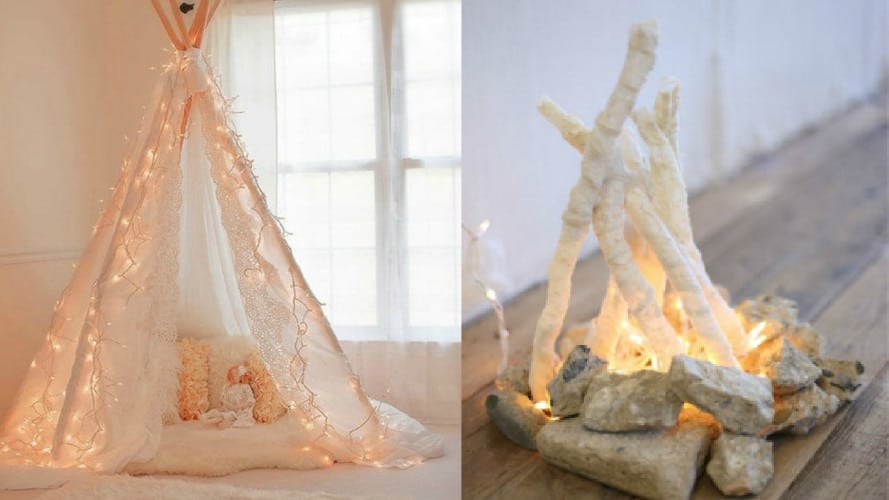 THREE :: Toys
We're pretty sure your kid has a few toys they used to be obsessed with but have abandoned them for newer toys. Don't throw away that little piece of childhood memory just like that! Instead, give them a new spark by turning them into light fixtures! If you have little action figurines lying around and your child has forgotten about their existence, whip out your glue gun and some spray paint as you'll be attaching them only lamps! This is such a simple DIY and the results are so chic! In fact, some adults might be interested in displaying such a light fixture in their home!
A simpler DIY involves finding an old toy automobile and attaching an Edison Bulb light fixture to it. Hassle-free much? Another harder but not any less fun idea is to turn old soft toys into light fixtures. Matsutake's blog carries a great instructional post on this DIY.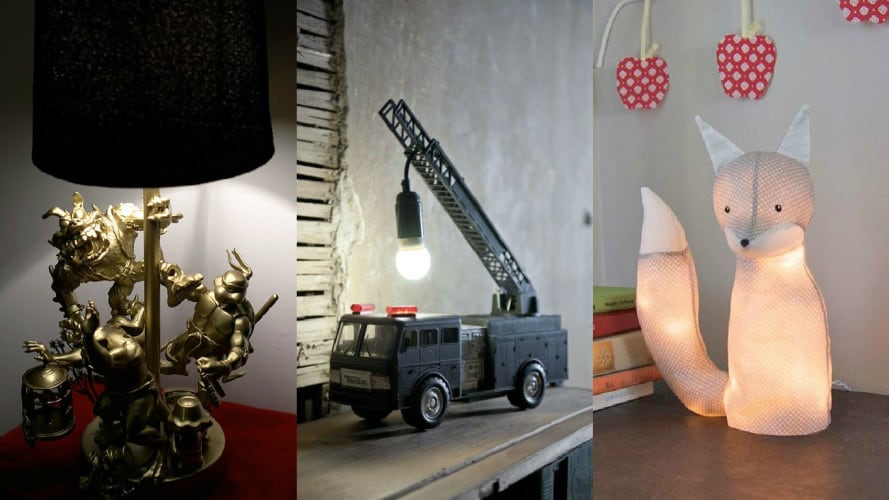 FOUR :: Fun shades
Cute patterns and loud colours are also very characteristic of a child's room. You can inject this element into your light fixture by getting lamp shades with an interesting design. If you've searched the entire market to no avail, fear not, there's a way! Personalize your child's lamp by covering the lamp shade with images of their favourite super hero or by painting on an animal of their choice! They don't have to be any particular pattern though. Perhaps the most important point out of this is to add colour and vibrancy through the light fixtures into the room.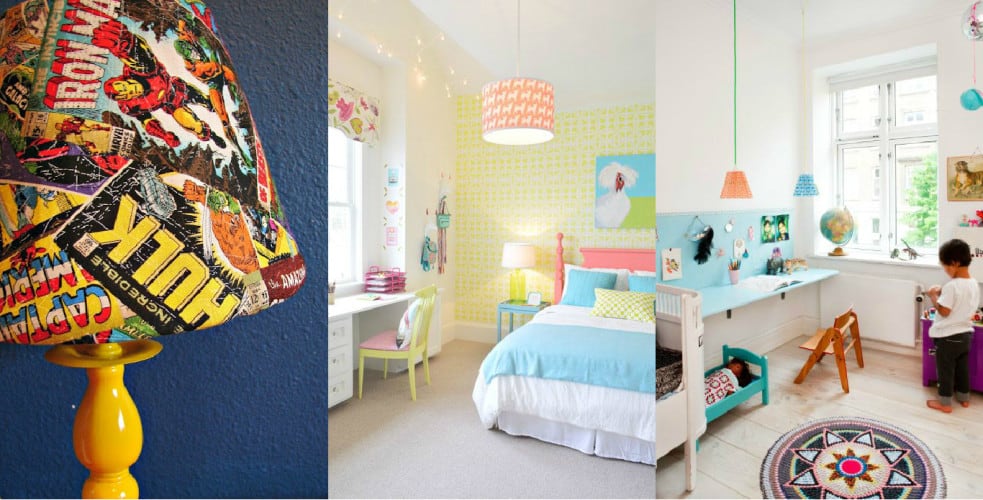 If you're looking to add colour into your child's room, why not try out our LUDDE Egg House Lamp, SELMA Rainbows in my Life Lamp or the KAKA Colourful Single Bead Bulb Holder? Trust us, you'll love them as much as we do!
An easier alternative will be to use lanterns! They come in a variety of colours and with the help of some markers, they become unique to you. You can install these lanterns with Edison Bulbs so as your child grows older, they can turn their lantern light fixture into plain exposed Edison Bulbs for a more mature taste. On look out for good Edison Bulb deals? We're here for you!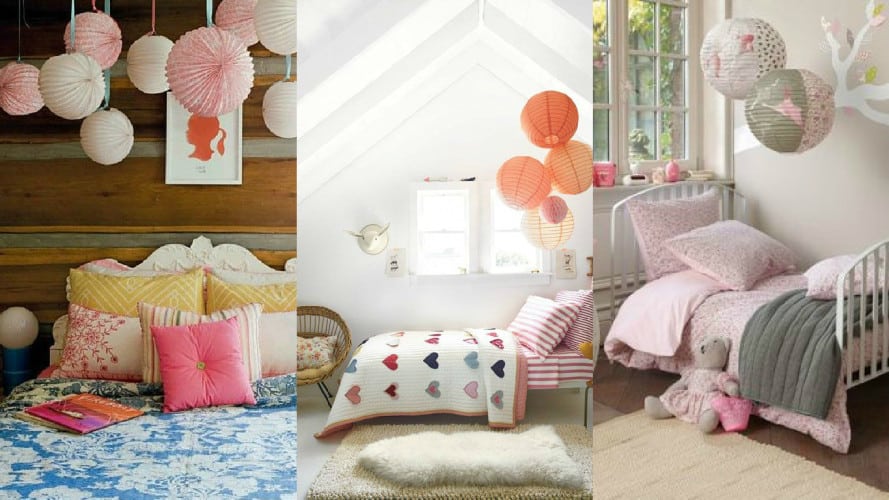 FIVE :: Glow-In-The-Dark Paint
If your child is unable to sleep without the lights on and you're worried about your electrical bill, we'd suggest going for glow-in-the-dark paint! These babies give you absolute freedom when it comes to placement, shape, and design! You can recreate anything out of your child's imagination or paint the galaxy on the ceiling! If you're feeling adventurous, paint some "secret" images on your furniture and surprise your kid with every turn. Your child can now sleep in peace under the watch of the galaxy or their favourite and you can sleep in peace knowing your electricity isn't running!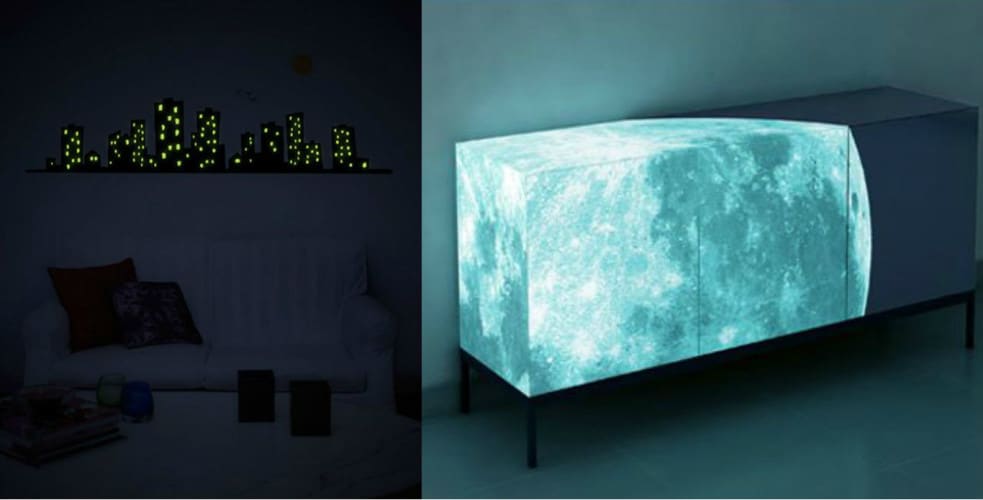 SIX :: Artwork
Lastly, if your child is an artist in his or her own right, turn their art works into light fixtures! Display your child's artistic talent around their room and perhaps cultivate an environment of creation and celebration! Get them to go crazy on a few canvases and then install some Edison Bulbs at the back of the canvas. This is not merely for fun and functionality, displaying your child's work does wonders for their self-esteem and psychological well-being. If you have a toddler, you can opt for motivational quotes or reminders in life that will aid in their development! Holistic much?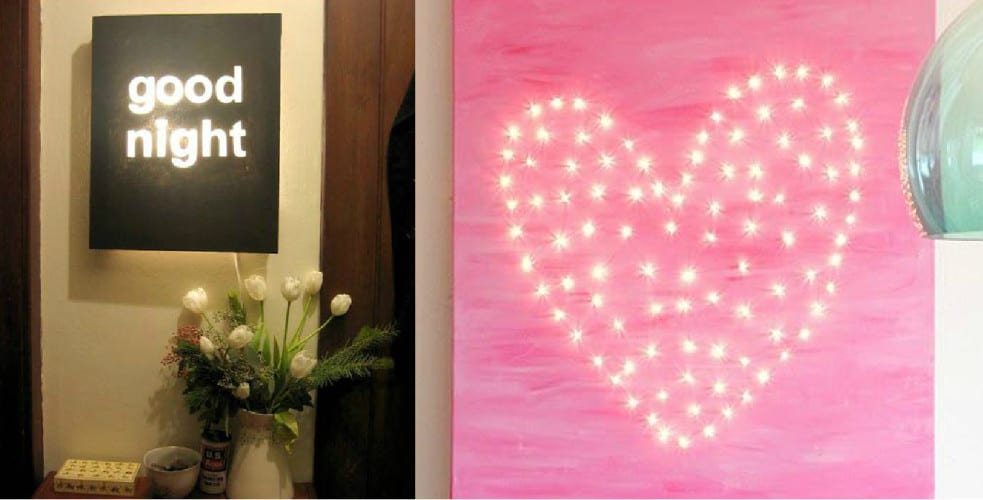 There you have it! 6 exciting and fun projects for you and your kid to embark on when deciding which light fixture to use. These projects were chosen for their accessibility and availability; if we don't think you can get them, we won't include them – simple as that! We hope these ideas have inspired you to delve into more creative and interesting ideas to light up your child's room; it will be where he or she grows up so make it a fun experience!
As usual, be a sport and share this article with your friends! We're sure their kids will appreciate it.