More Funds for Renovation!
Buying a house is a huge commitment, if we're signing up for a monthly repayment, it'd better be for something that's worth it! For most, the foremost consideration would be which estate to live in. As small as Singapore is, each estate is still idiosyncratic in its own way. Which estate has the best kopitiam? Which estate is nearer to your workplace? Which estate has the best schools? More importantly for some, which estate is the most affordable?
According to Resale Market data released by HDB & SRX Property for April 2017, the HDB towns listed in this article clocked the overall lowest median resale prices. Unsurprisingly, a bulk of the lot are non-matured estates. Yet are these estates really lacking in comparison to their big brother, matured estates?
Take for example Jurong, with 4 major malls near Jurong East MRT, there is little need to travel into town. Coupled with the announced development of the Jurong Lake district, it will almost be like a self subsistent tiny island of its own! With all rounded amenities springing up in every neighbourhood, these lower priced neighbourhoods may not be an inferior option. Moreover, spending less on the house means more pennies for renovation! The homes featured below are proud representatives of their neighbourhood, highlighting how a well renovated home should be your priority.
Jurong : overall median price : $380 000
"Jurong will be Singapore's next central business district". While it will still be at least 10 years till we start witnessing completed infrastructure, you can sure consider Jurong as a place to set up a cosy home.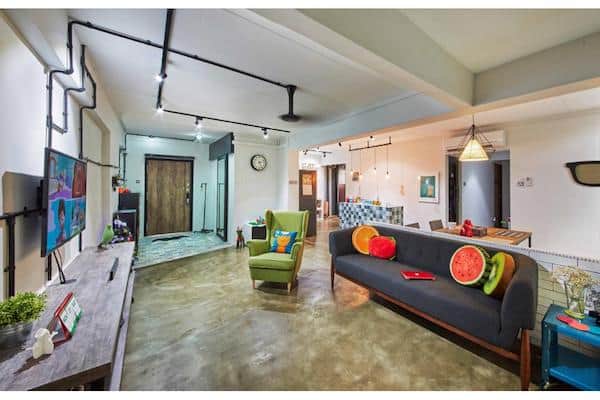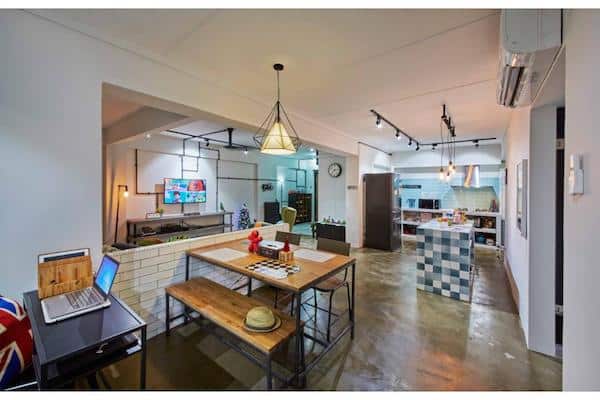 In the Jurong West Home featured above, Owners opted for cement flooring in their living room. Their playful spirit is fully expressed through mosaic tiled floor in the doorway and bar table.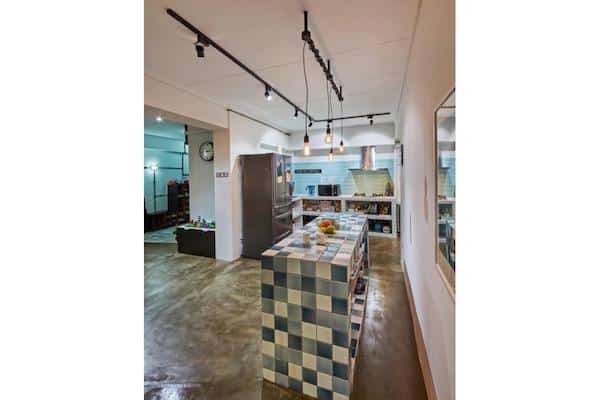 What we liked especially is of course the rustic pendant bulbs hanging above the bar table, guests would surely be impressed as you serve them cocktails over this bar during a dinner party. The unbashful usage of black pipelines and black track lights also adds to the bold industrial style of this apartment.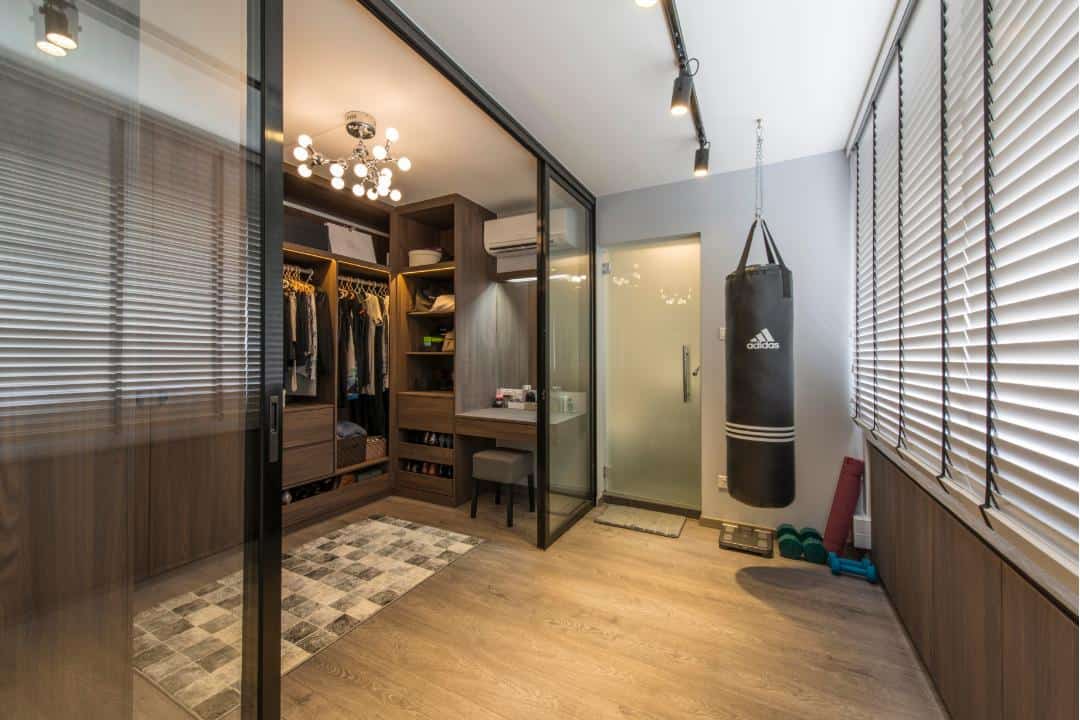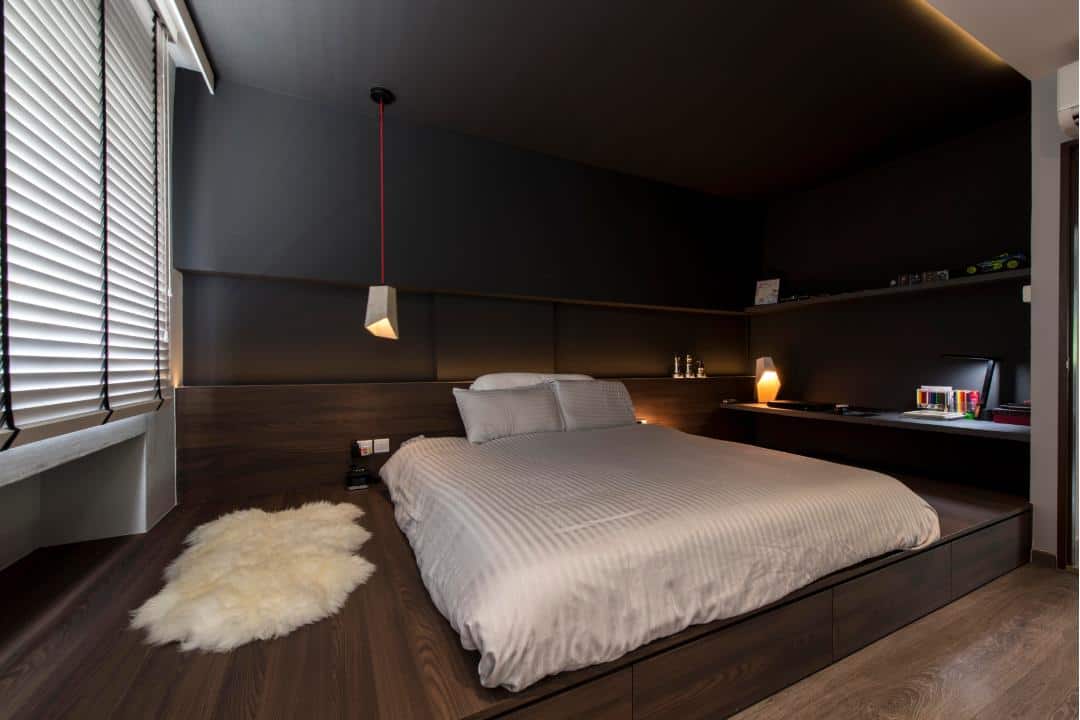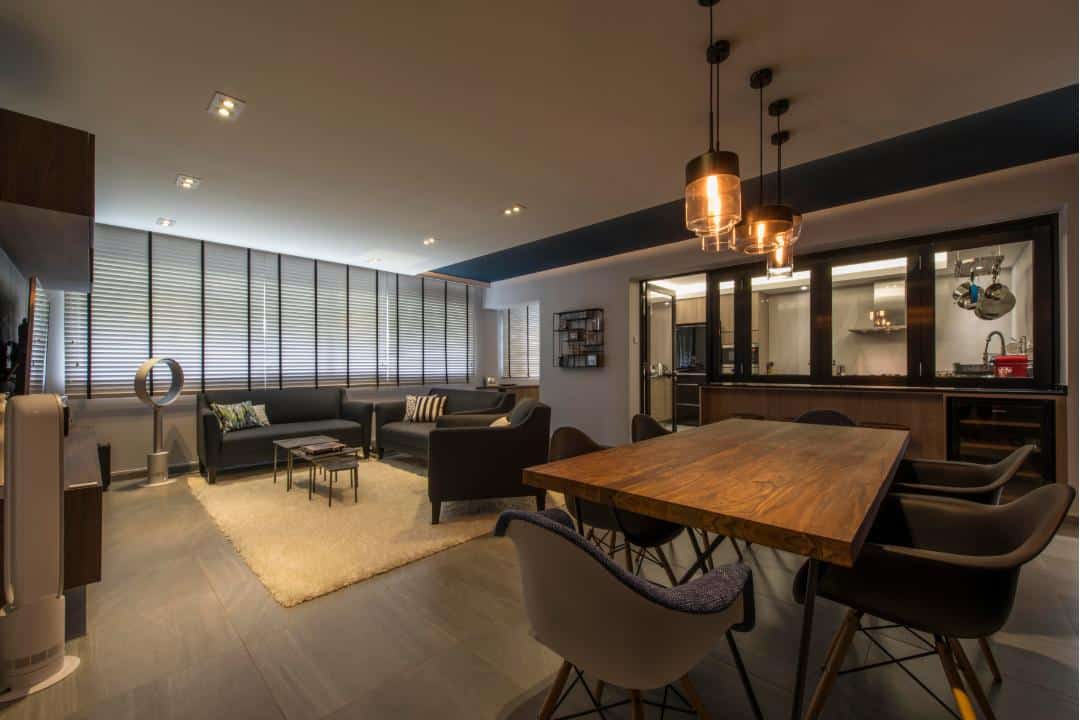 In this other Jurong West apartment, owners opted for more sombre tones. The wooden framed glass panels allows one to look into the kitchen from the dining, very similar to open concept dining experiences in restaurants for curious peepers. The 5 pendant lights of different shapes derails from the regularity of the living room, adding a sophistication to the area. The stylish platform bedroom features a pendant cement light which is consistent with the cool tones of the room.
Have the Jurong West homes above served as inspirations for your home? To guide you along in the recreation of such styles, we below are examples of similar lightings available on Screed.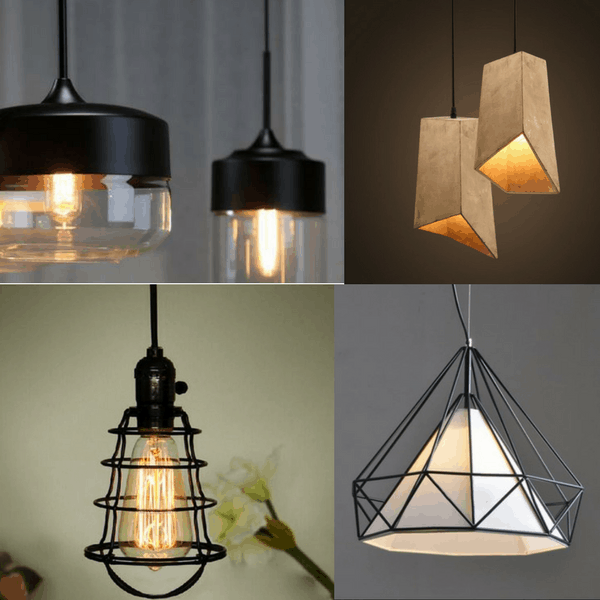 Bukit Batok : Overall median price : $325 550
Bukit Batok, neighbour to Jurong and home to 'Little Guilin' clocked the lowest overall median price last month. We are sure that wouldn't be have been the case if the featured home below was in the transactions. A well renovated home will greatly boost the value of your unit!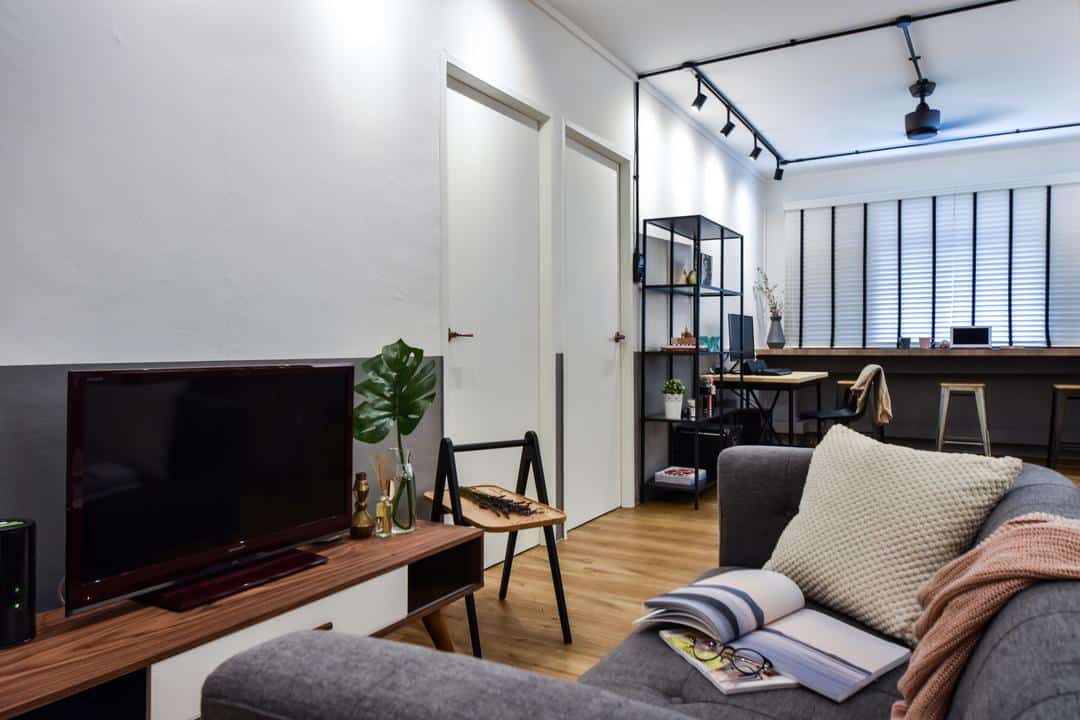 Owners in this Bukit Batok recreated the Scandinavian style impeccably. Rich wood tones are accompanied by black steel and white walls. The casual placement of greenery/dried flowers throughout the home also serves to complete the scandinavian look.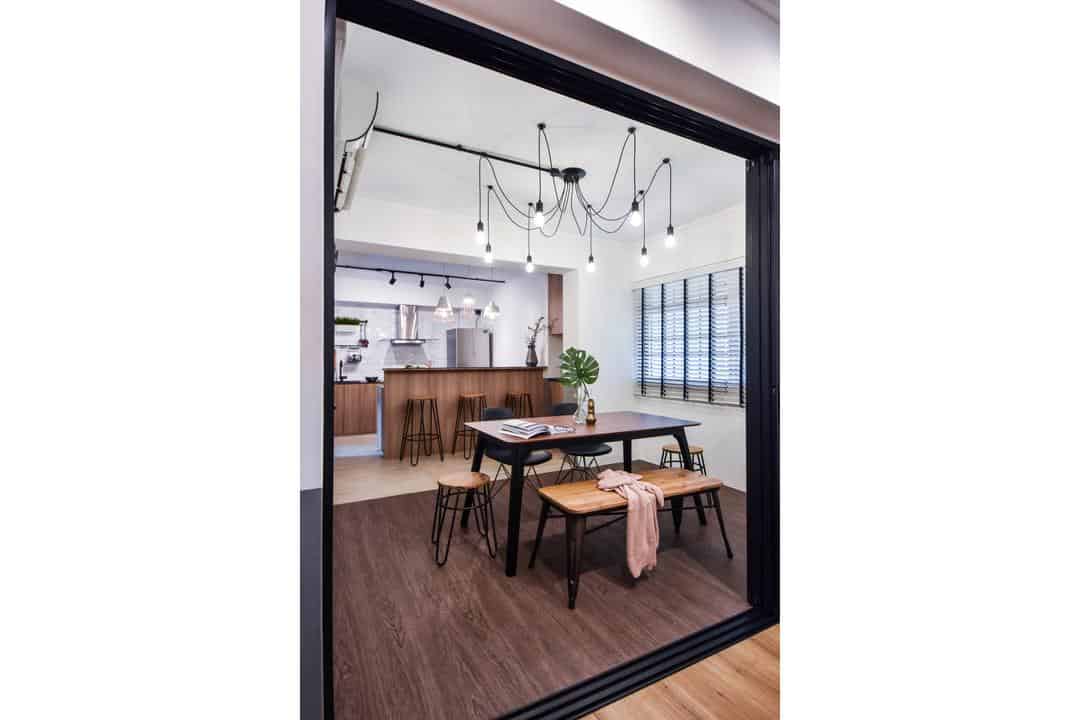 The spider lamp sprawls effortlessly above the dining–  reminiscent of romantic outdoor fairy lights that hang freely.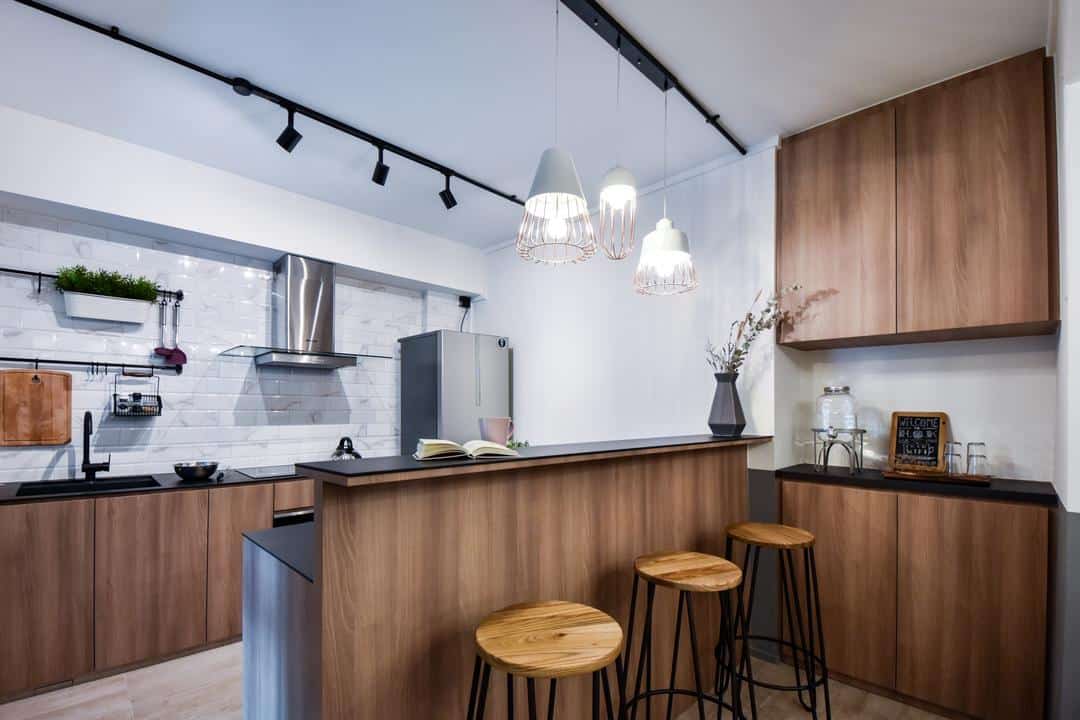 Counter tables are highly popular with new homeowners. Their counter table is beautifully accentuated by the pendant lamps whose silver cage adds a delicate shine to the kitchen.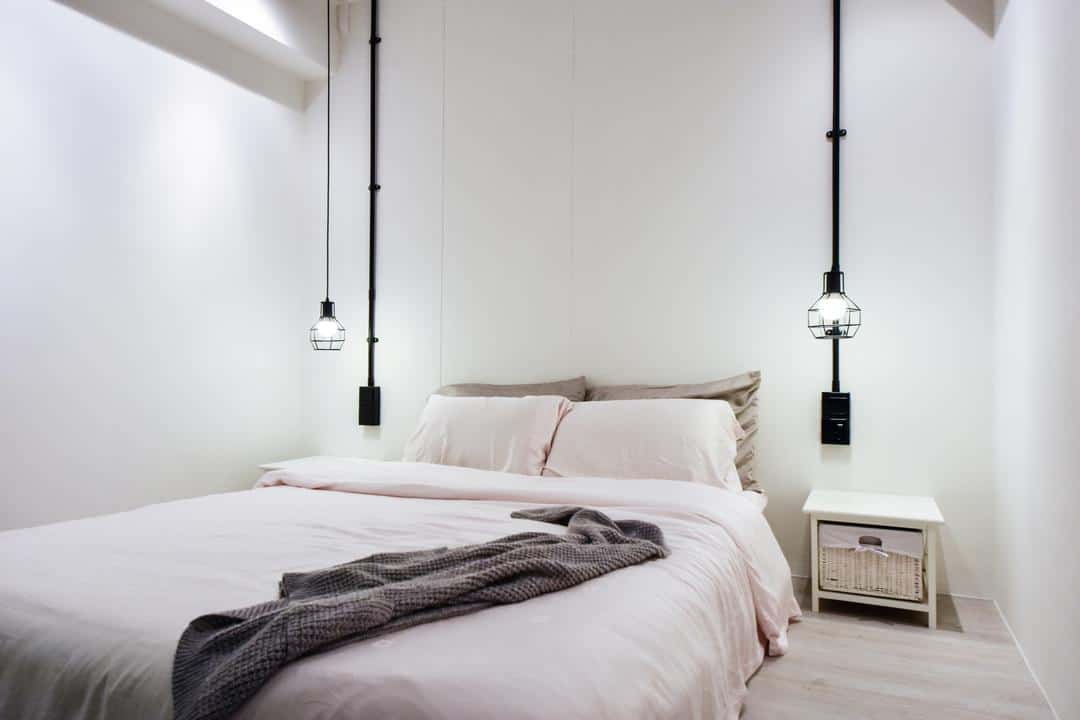 In their bedroom, owners made maximised space by hanging pendant lamps and keep clutter to a minimum.
If you are a looking to accomplish the Scandinavian look above, the options below will be a good bet.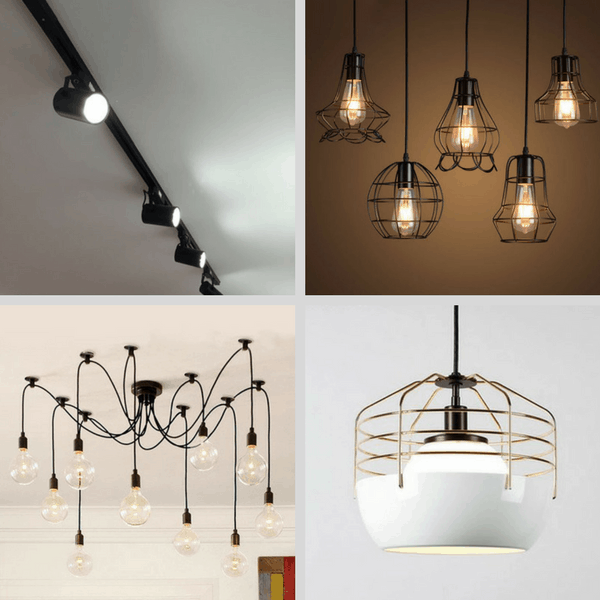 Yishun– Overall median price: $330 000
Yishun has gained quite a reputation lately for being the 'weird town'– in all good humour.  As the popular meme goes- "Build a wall around Yishun", parodying Trump's famous words. Besides it's new gained fame as being the town with a series of unfortunate events, it is mostly recognised by Singaporeans as the inaccessible town in the far north.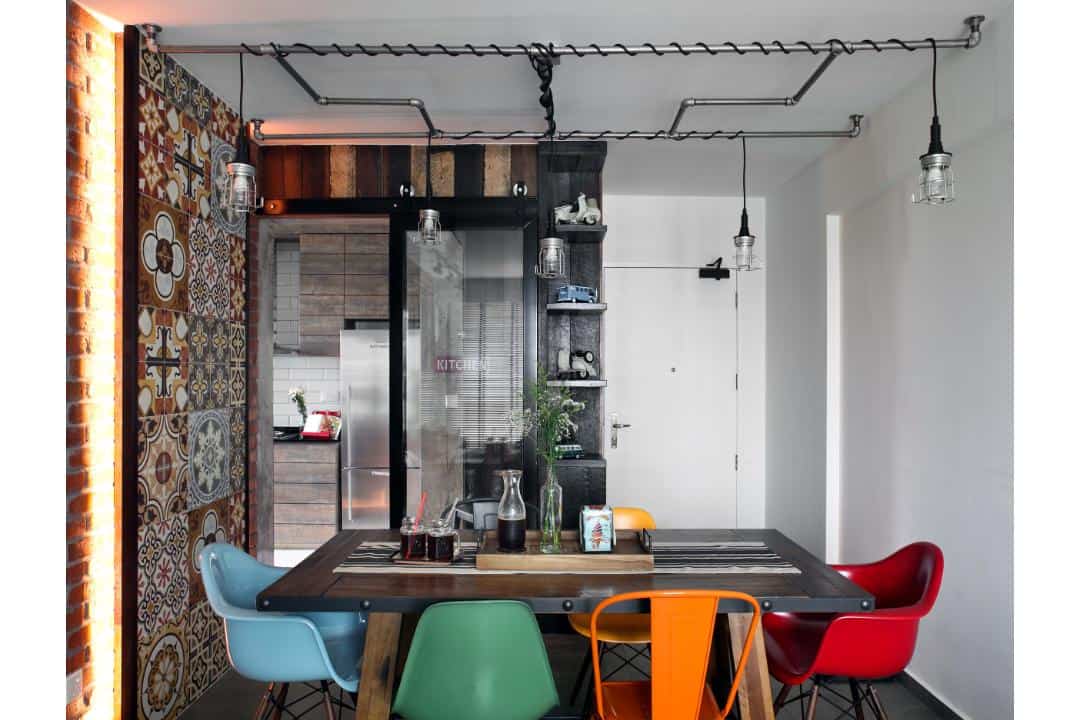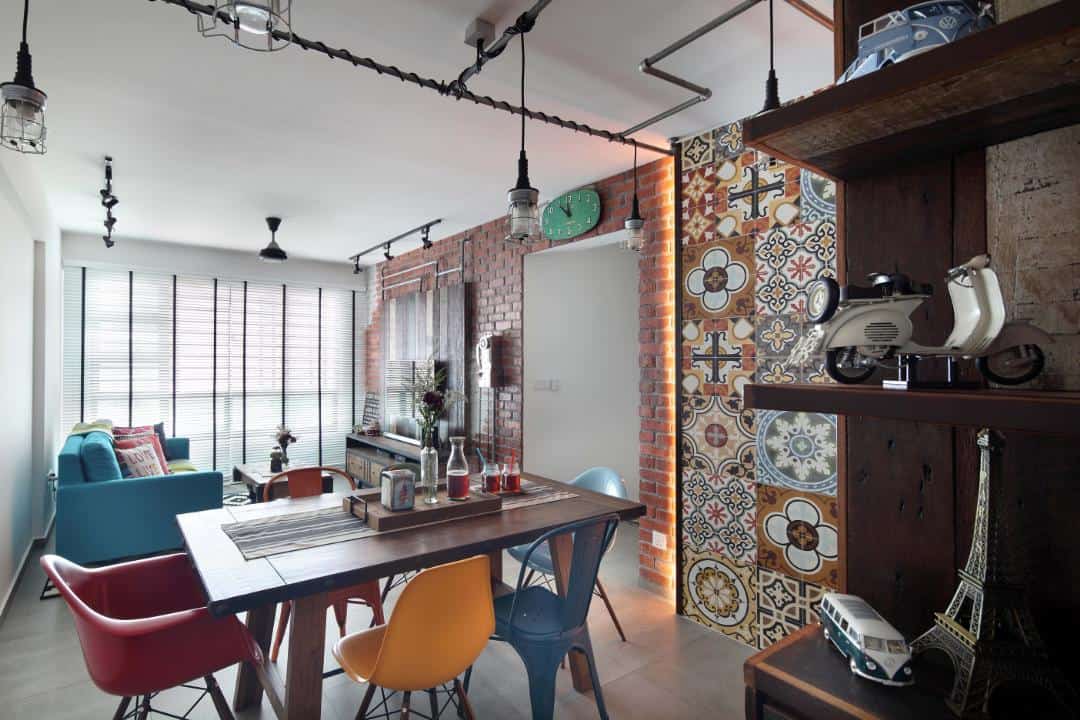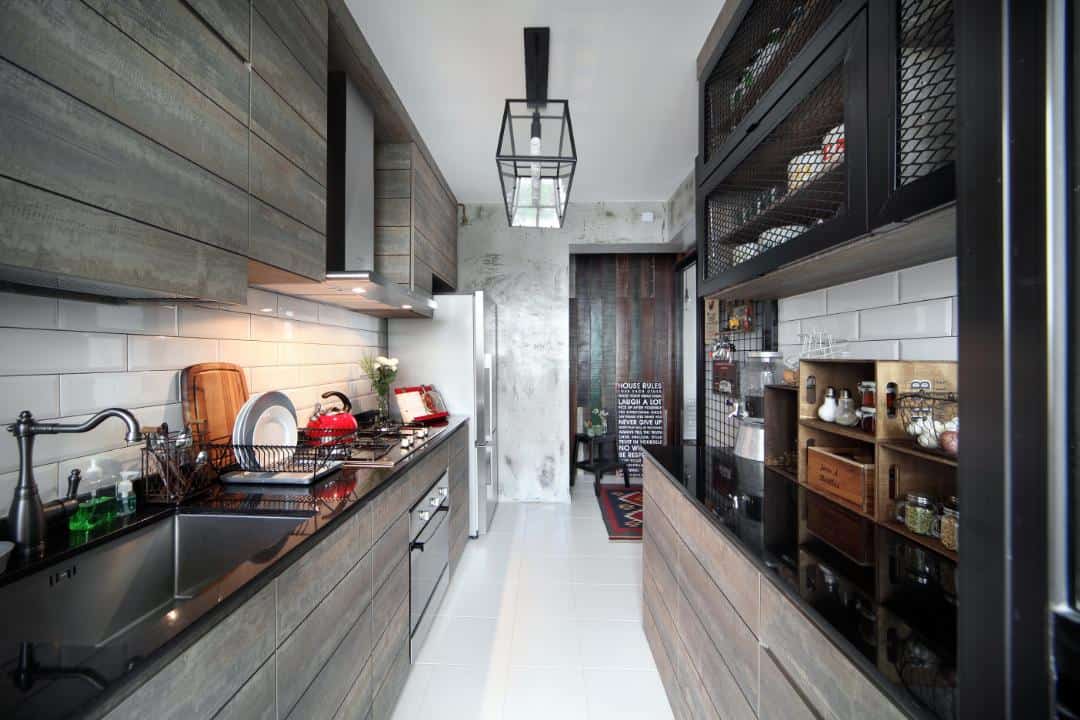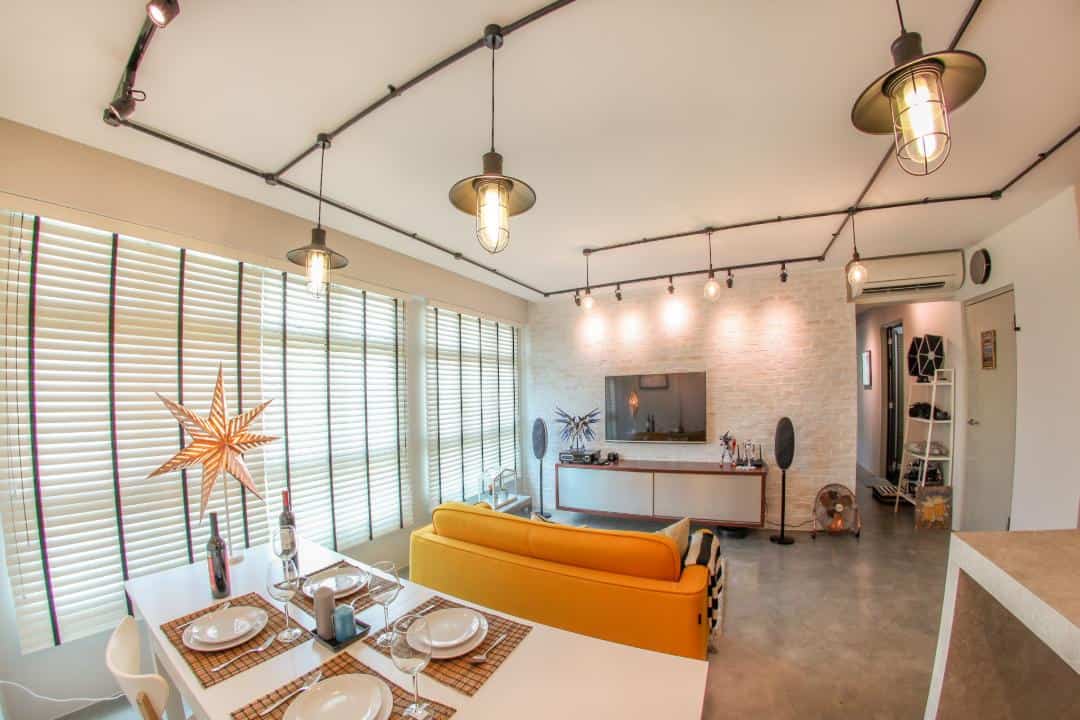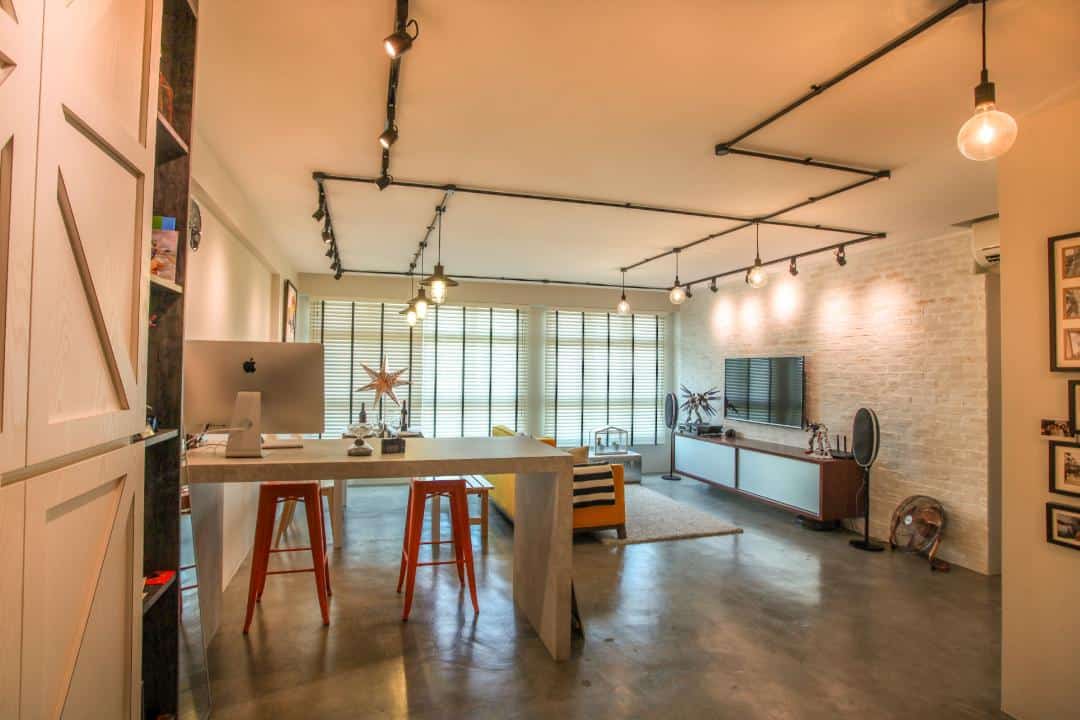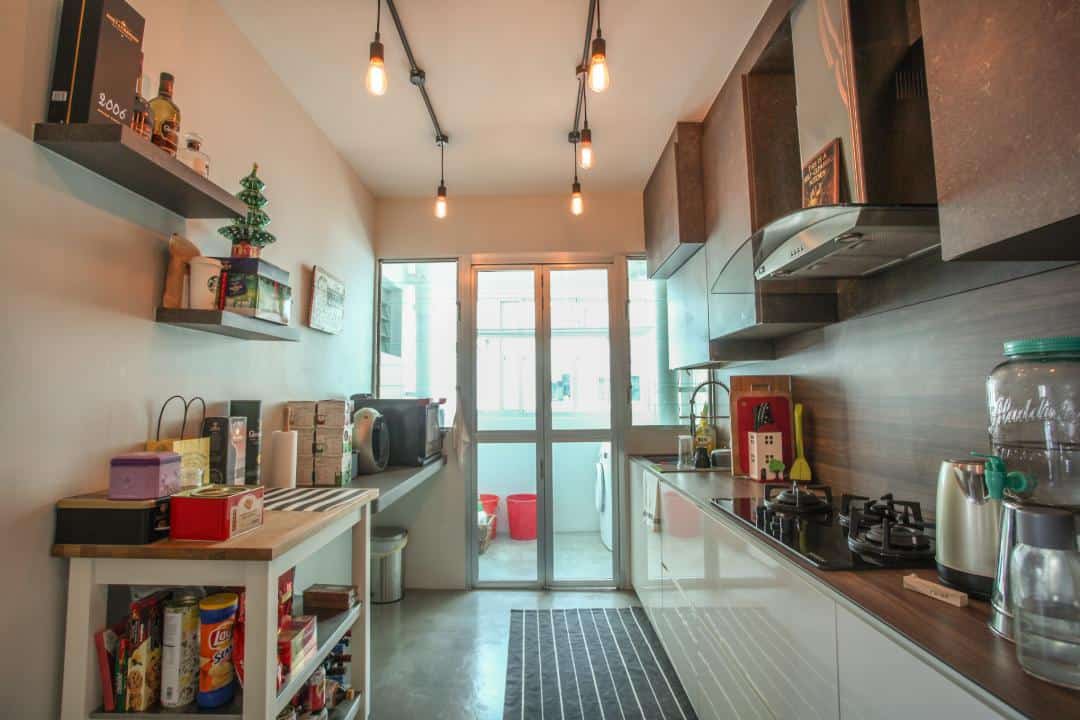 Shown above are 2 gems of the far north. Owners of the first unit are maximalists who are bold with their colour usage and retro mosaic tiles. In comparison owners of the second unit are more reserved, sticking to hues of grey white and yellow. Yet both are similar in utilising brick walls, pipelines and dangling retro bulbs to create the industrial style.
The lightings in the two homes above clearly take center stage and if you're a fan, we are here to help you recreate it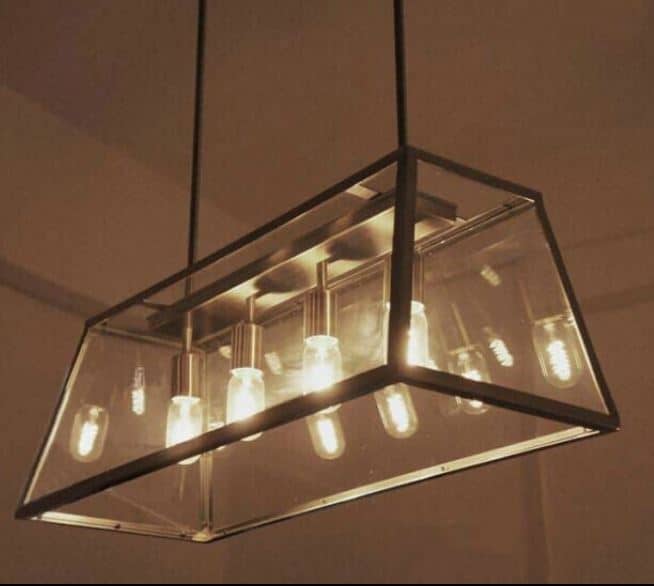 Bedok- overall median price $380 000
Loyal Easties who pledge their life to staying in the East can consider Bedok, the only East town to have made the list for one of the lowest overall median price. As a matured estate, Bedok offers plenty of established hawker food options and provides an old school charm. Also, HDBs in older estates are usually bigger than their newer counterparts!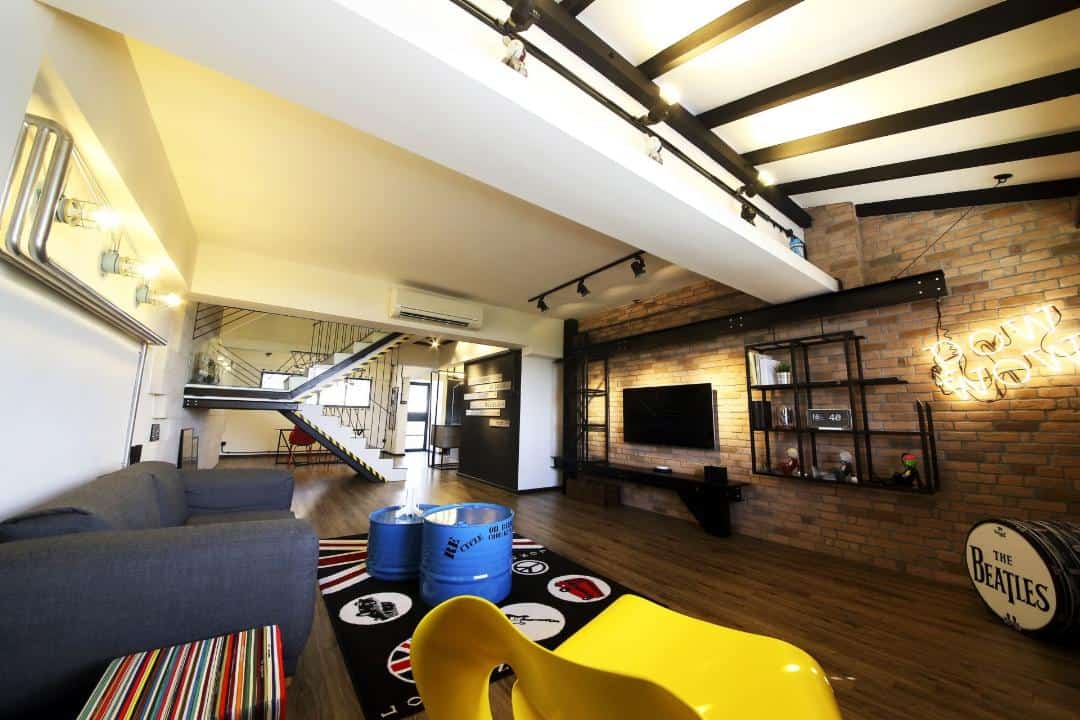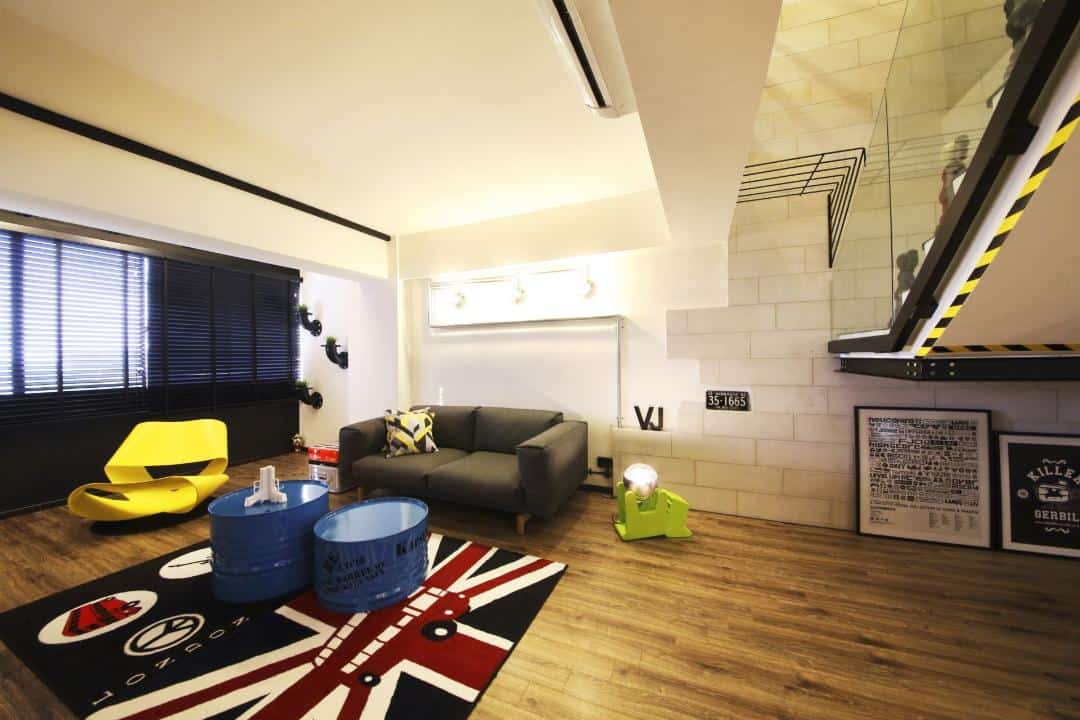 Shown above is a Maisonette in Bedok Reservoir. Rocking the british punk rock industrial style, owners are daring in using spotlights to illuminate their space. Its as if their living rooms been transformed into a stage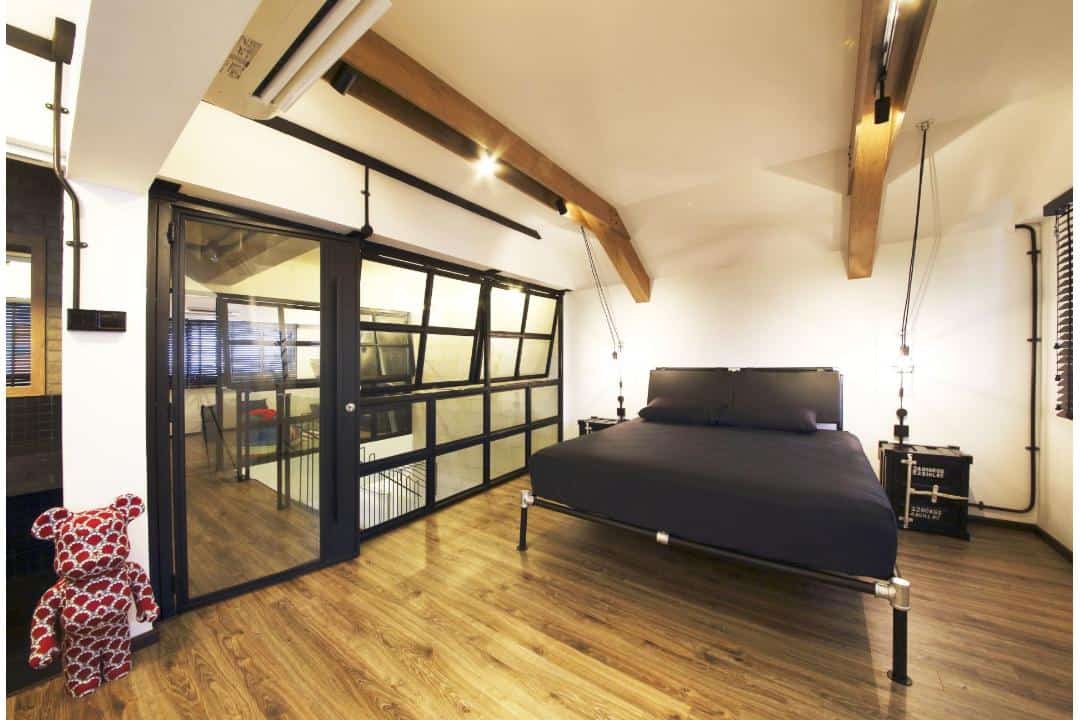 If you're a fan of loft style bedrooms, why not choose a maisonette and explore the possibilities of the double storey space. 
Bring out the rockstar in you with these additions to your house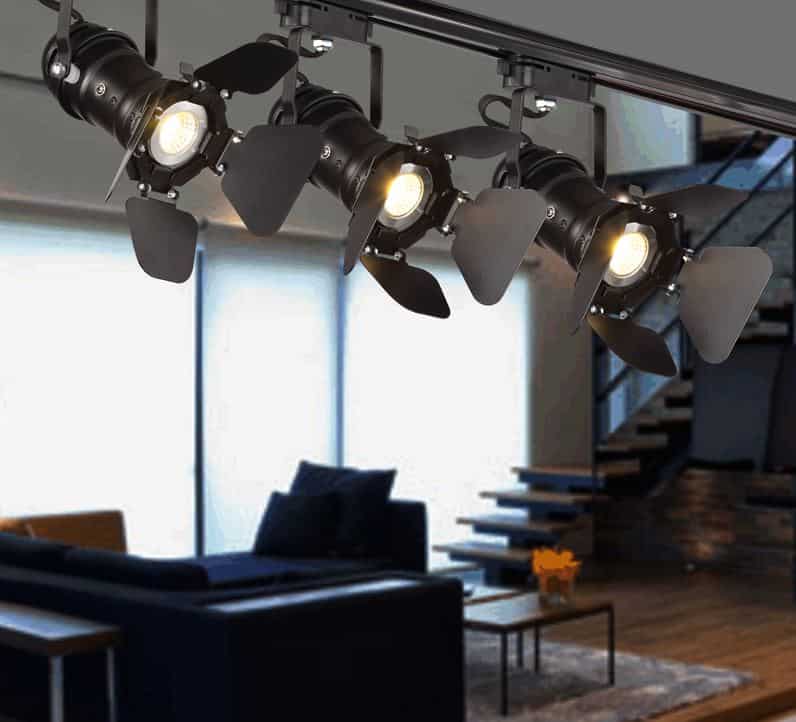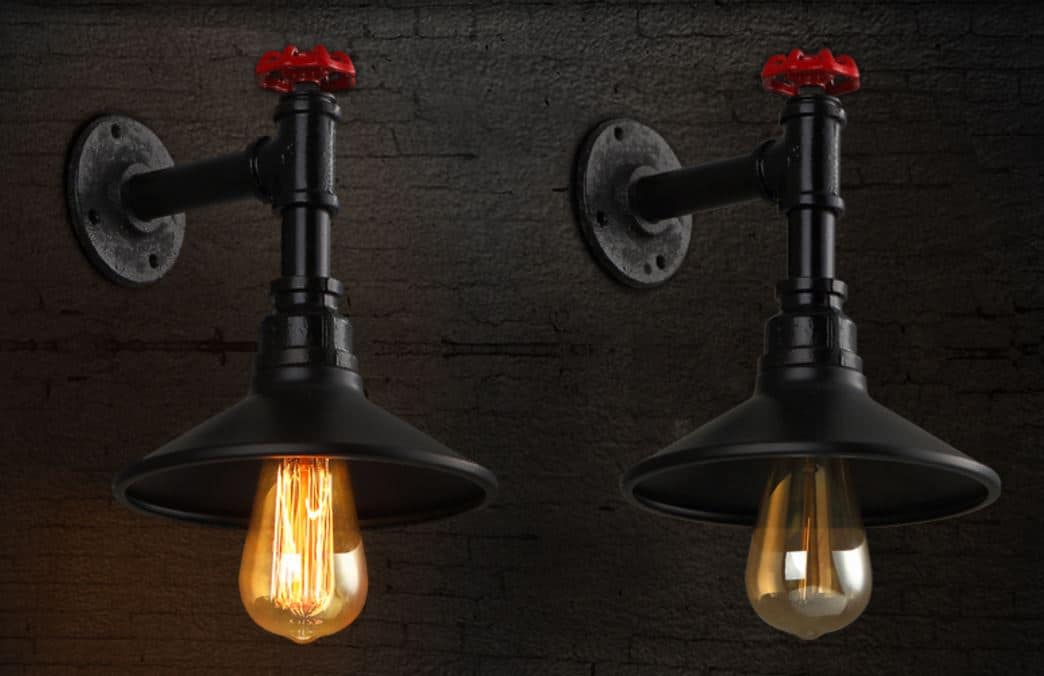 Choosing your preferred interior design style is of equal importance as choosing your neighbourhood. Less money spent on the home means more funds to create the perfect living space! As exemplified in the examples above, lighting is an crucial ambient factor and we here to help you with it.
Photo credits: Qanvast.com ,  screed.com.sg