In recent years, many HDBs have rivalled private developments in terms of design features, with many snagging up multiple design awards. Take for example HDB Skyville@Dawson which features a sky garden with a 400m jogging track. At 46 floors above ground, it offers stunning views to residents and looks very much like a luxurious condo.
Yet despite this, a key difference still lies between a general HDB BTO flat and a condo unit. That is the ceiling height! The typical ceiling height for a HDB is 2.6m whilst condos have more freedom in deciding their layouts and ceiling height (usually >2.8m)
This leverage in vertical space gives owners more creative freedom. Featured below are Condos that have fully utilised this vertical space, unsurprisingly, with hanging pendant lamps. Both functional and decorative, these lamps are staples in these households.
Industrial Sprawl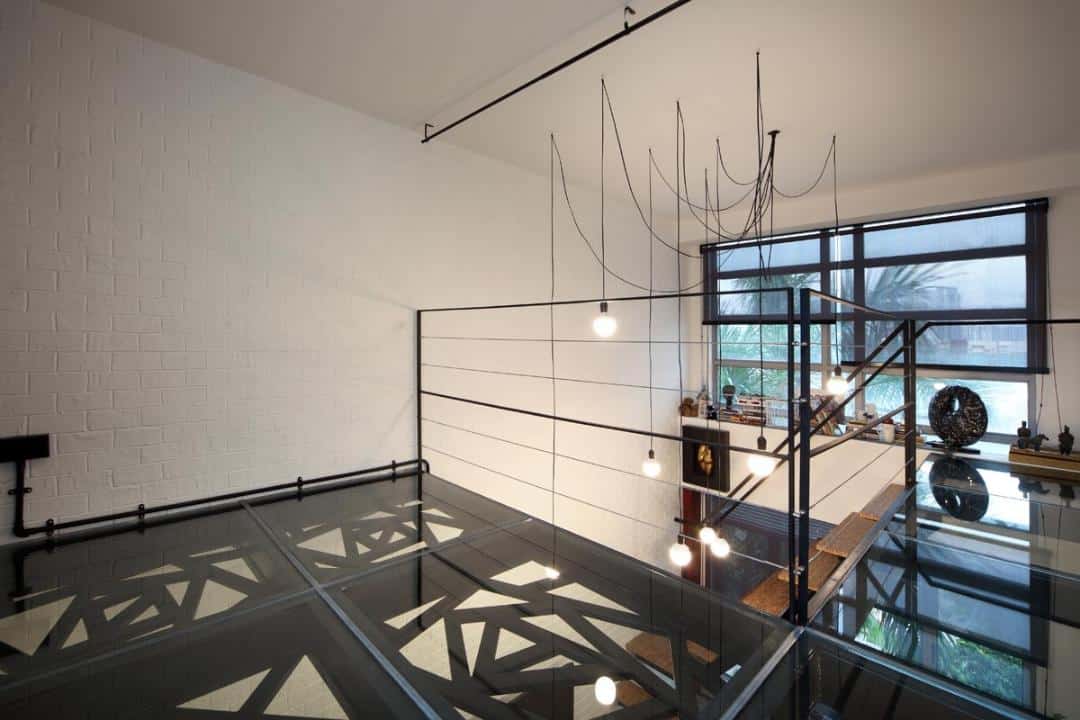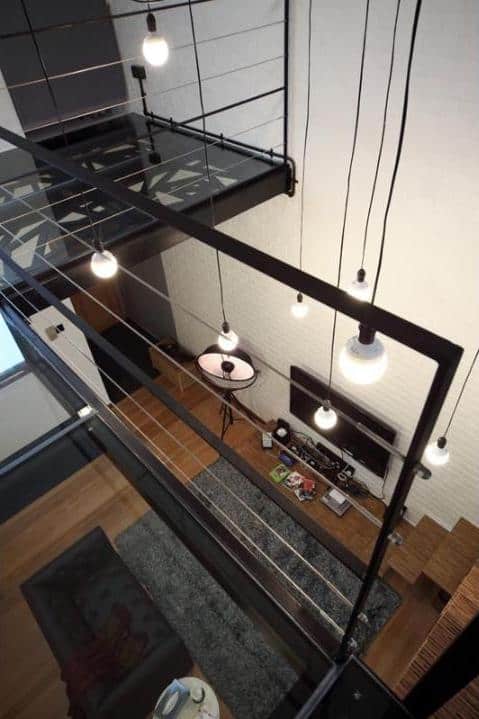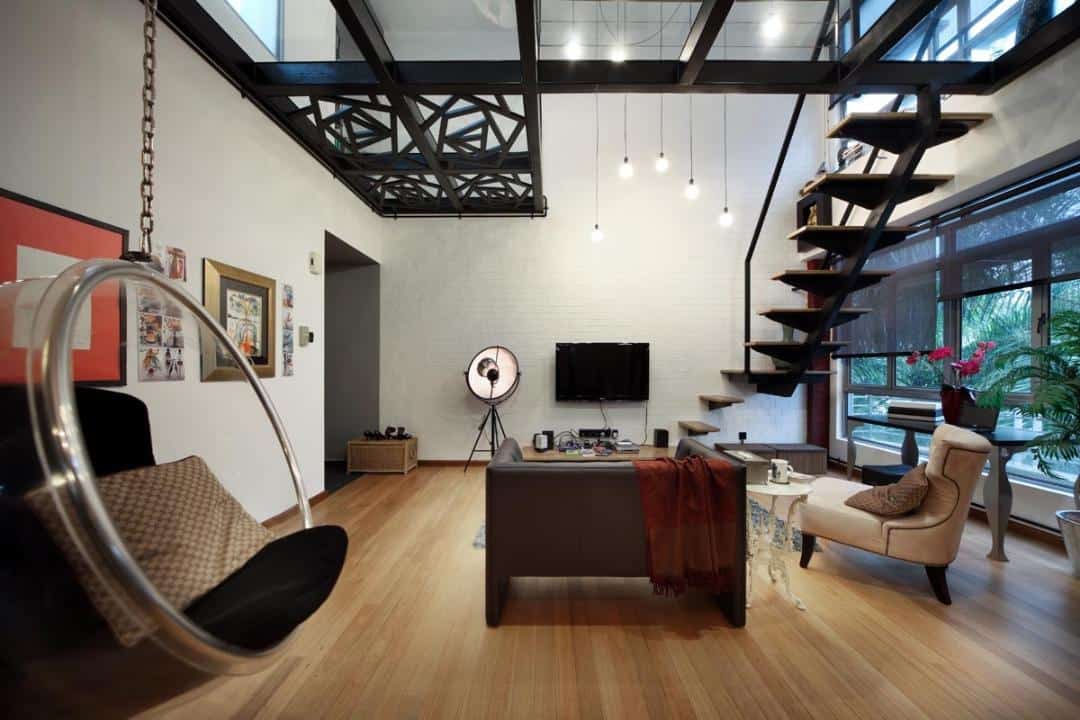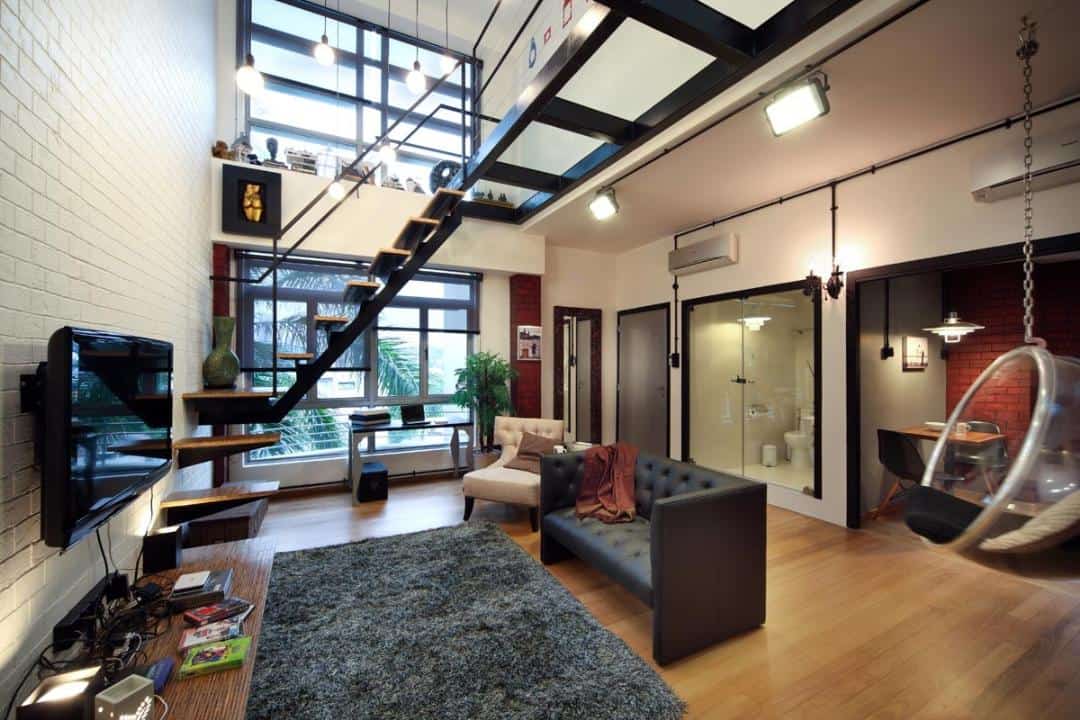 PhotoCr: DistinctIDentity
Staying true to the roots of a loft, this home practised the industrial style religiously. Framed with black steel, this home needed lights that had just as much character. Their choice was a spider lamp that sprawls casually above their living. The naked bulbs make it effortlessly industrial, just exactly as how warehouses were lit in the past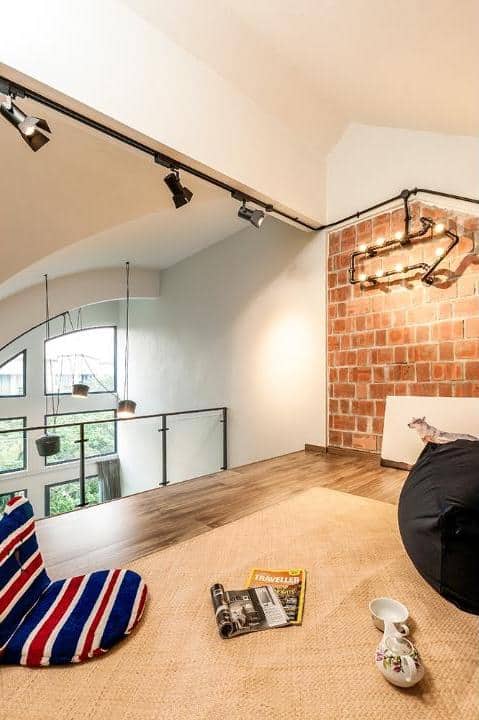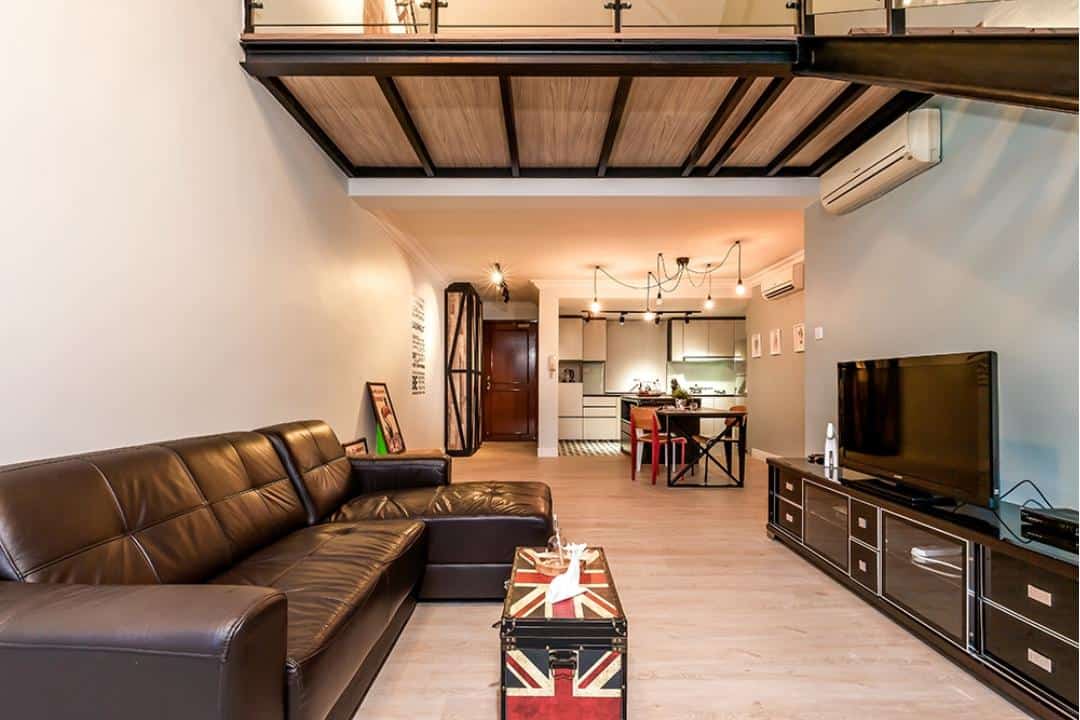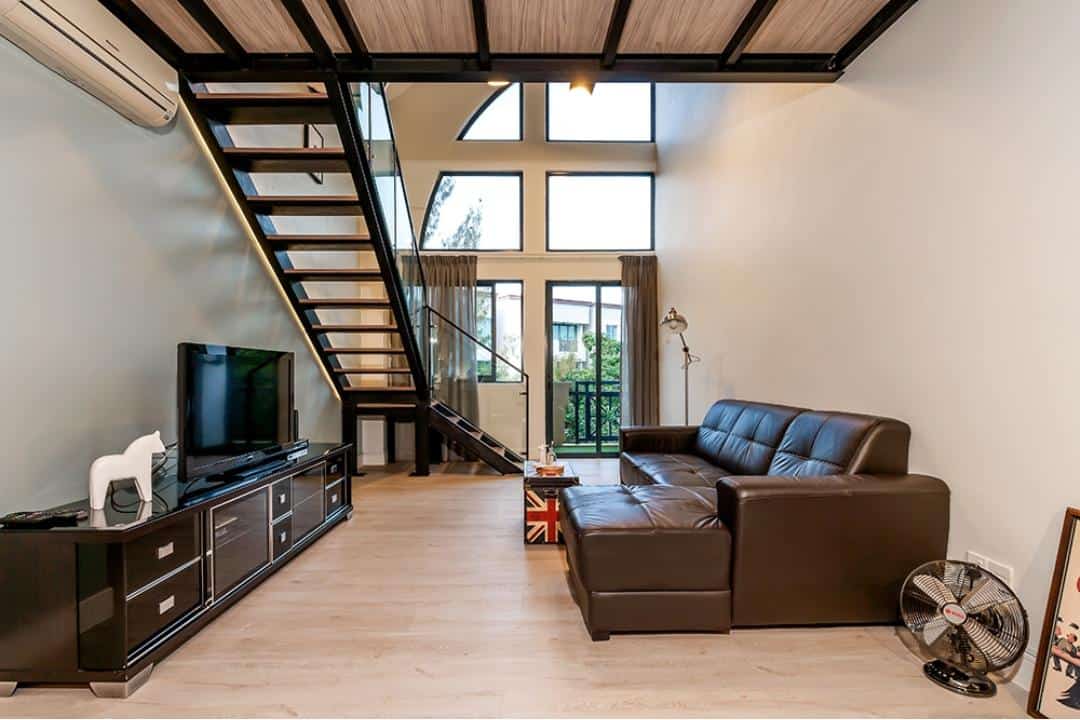 PhotoCr: Icon Interior Design
Just as the previous apartment, this apartment is industrial with its brick walls, beautifully arched full length windows and loft layout. They chose similar spider lights as the house above, proving the hit that spider lights are with new homeowners. What stands apart though is their infusion of british rock elements. The cosy corner at the upper deck is adorned with the decorative steel pipe arrow lighting which makes it a creative space to host guests.
We have curated similar lightings below that will help you achieve the industrial style shown above.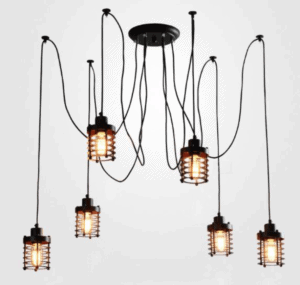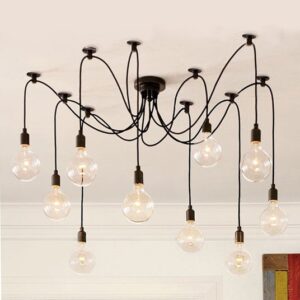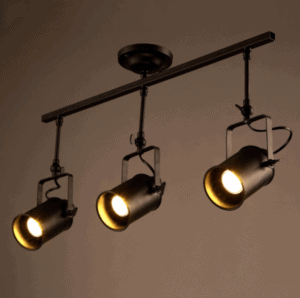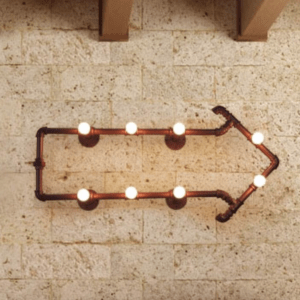 Top Left: Aina Web Hanging Lamps
Top Right: Kalle Spider Hanging Wire Lights
Bottom Left: Jerker Stylish Spotlight
Bottom Right: GÖSTA Creative Industrial Pipe Arrow Lamp
The Glitzy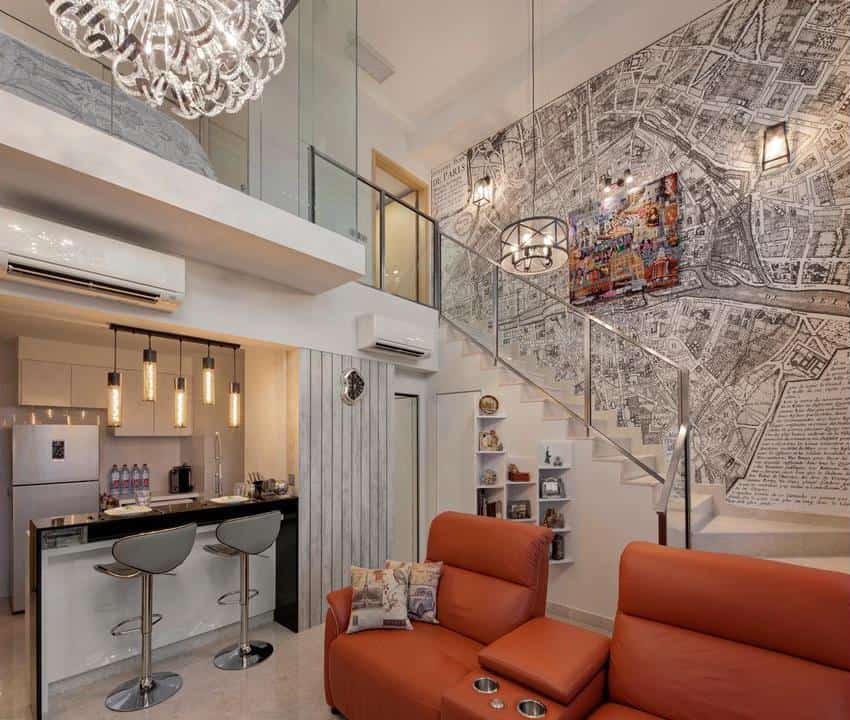 Photo Cr: DeStyle Interiors
Industrial and minimalist style often come up tops for new homeowners. However for the non conformists who like extravagance, a grand lighting will often do the job. The shine from these pieces add elegance to the house and almost transforms your house into a ballroom. In the house above, owners made use of every white space available. The TV feature wall is an Eiffel Tower while the stairway's wall is a map view of the streets of Paris. Since Paris is the well known as the City of Lights, it is only fitting that the lighting pieces take center stage in this house.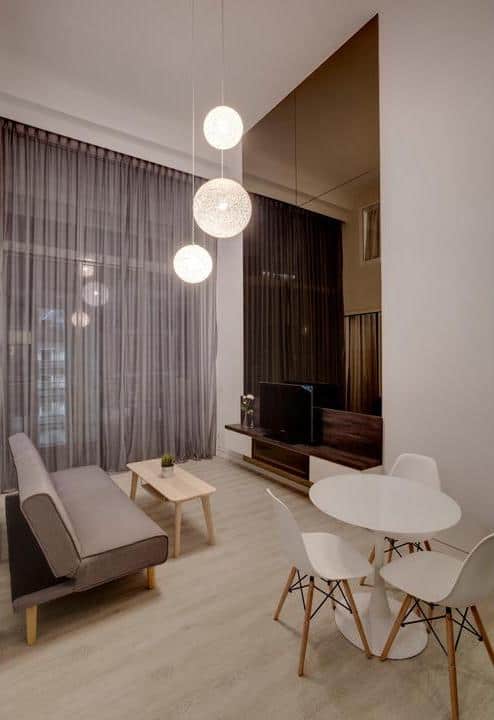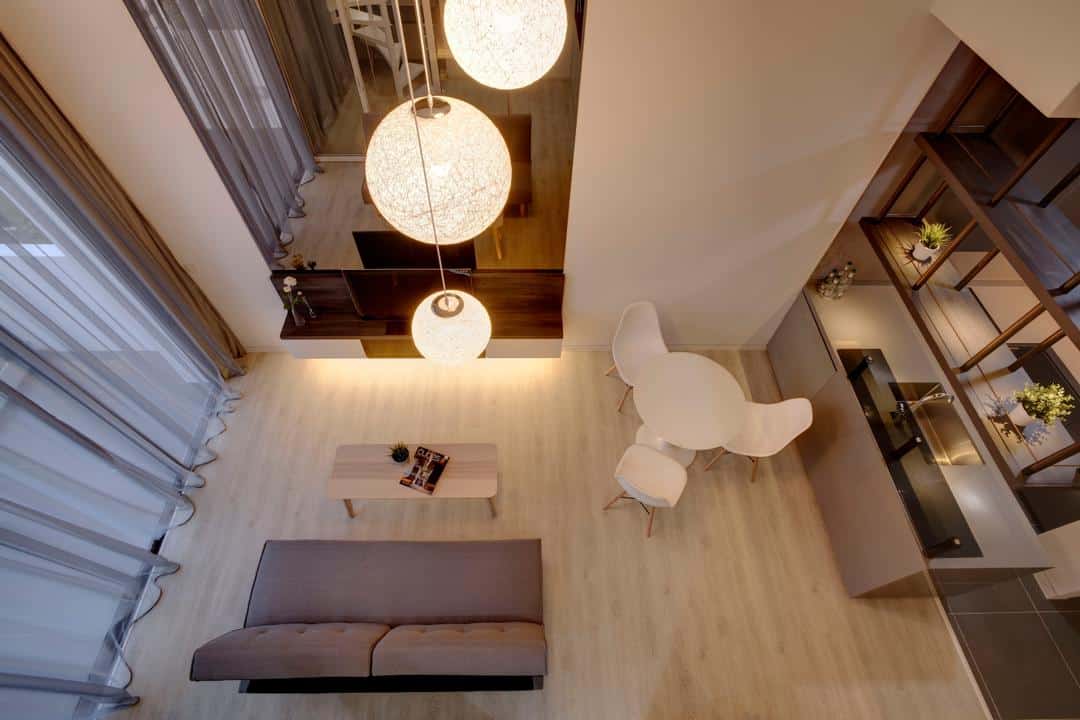 PhotoCr: Liid Studios
Inject some romance into the house with these lantern lamps. As opposed to the previous house, these lightings are mellow yet still bring an all rounded shine with them. Set at differing heights, these pendant lamps drape down elegantly above the living.
If you are looking for that stunning glitzy addition to your space, these options below would be a good bet.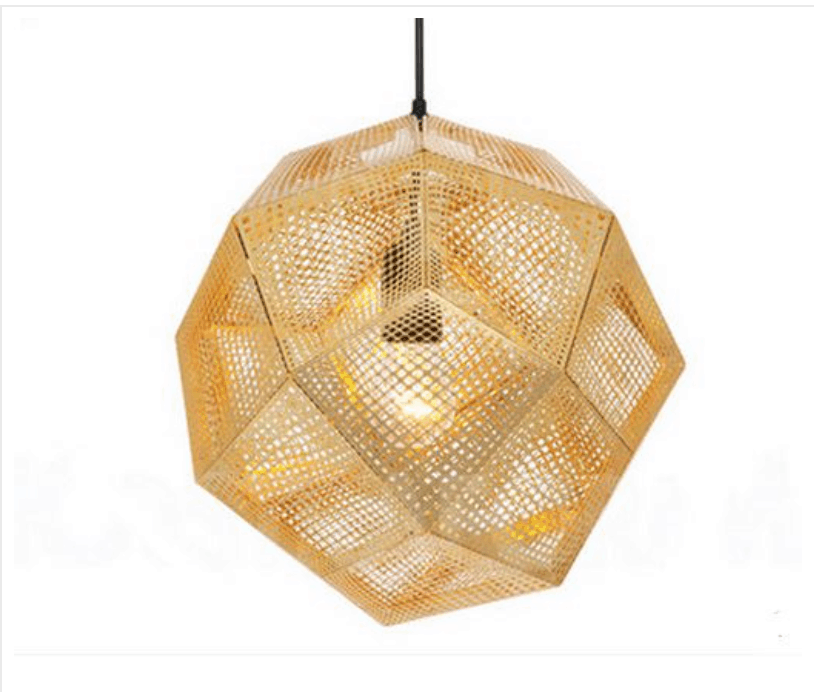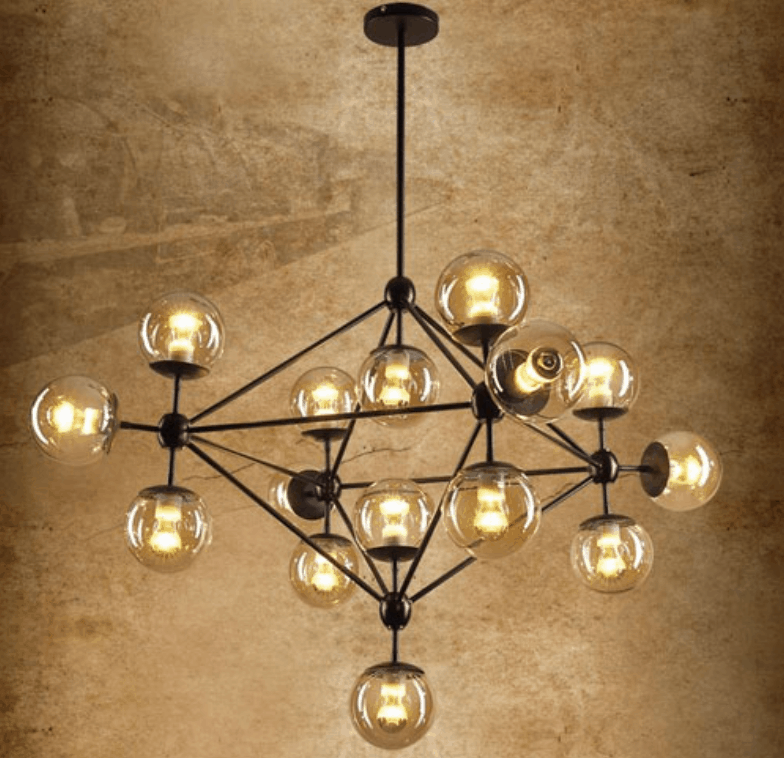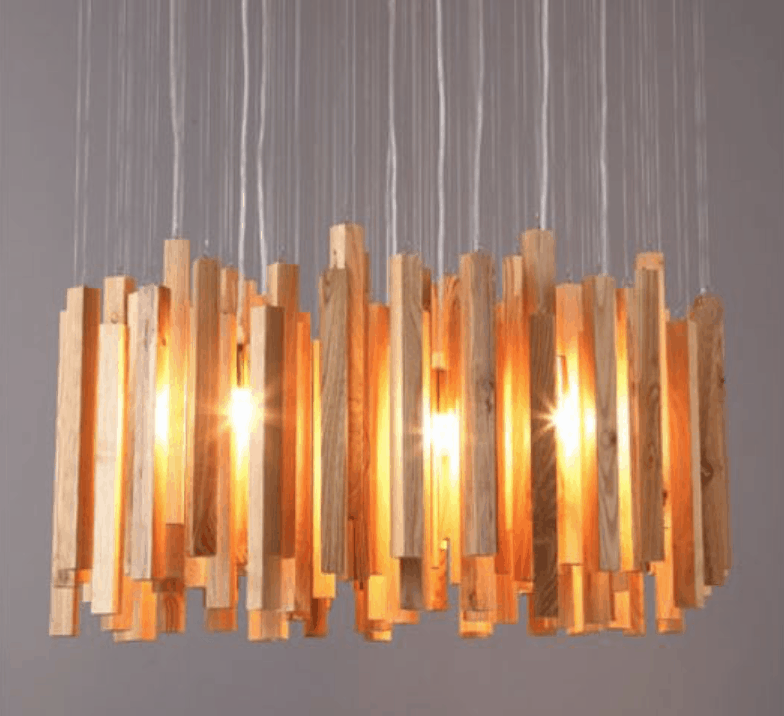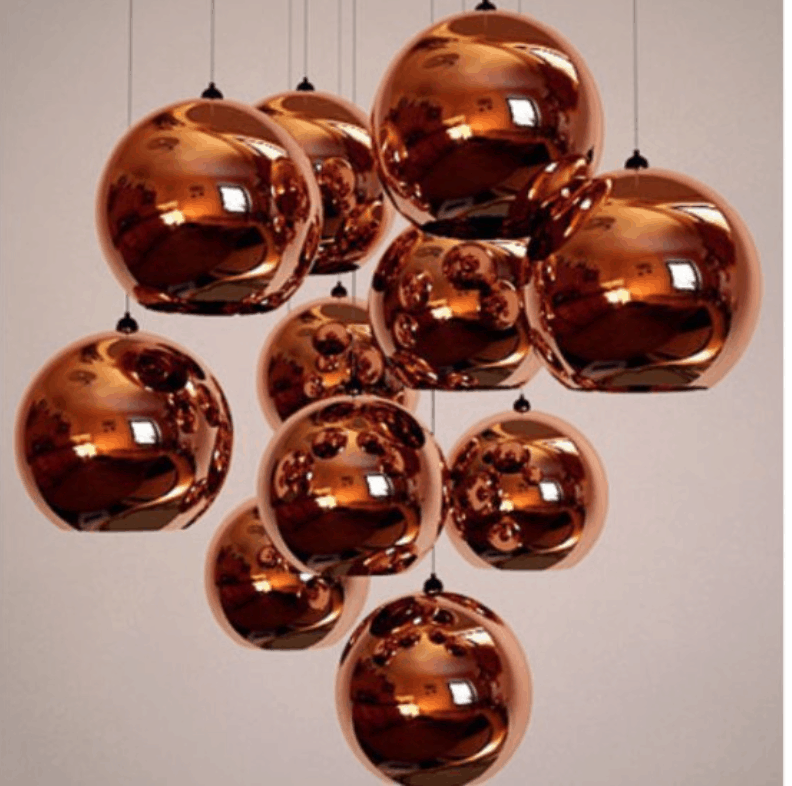 Top Left: SVEA Futuristic Hanging Lamp
Top Right: ELOV Galaxy Stars Lamp
Bottom Left: THORVALD Twinkle Twinkle Starry Tears Lamp
Bottom Right: RAGNA Ornamental Orb Lamp
The Oriental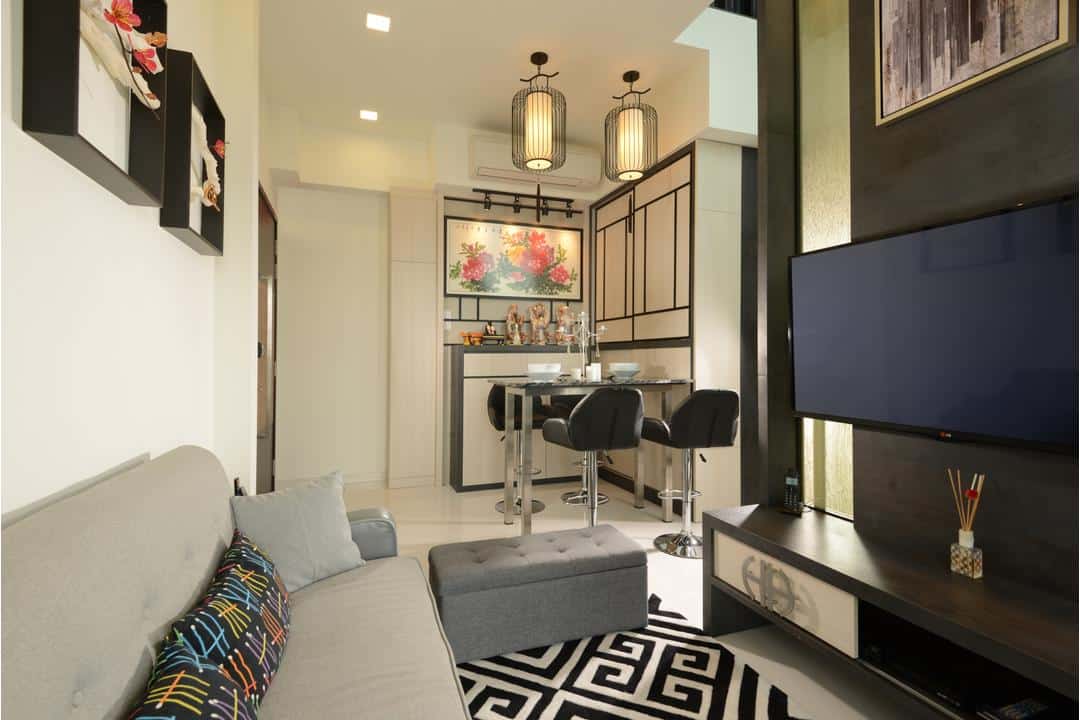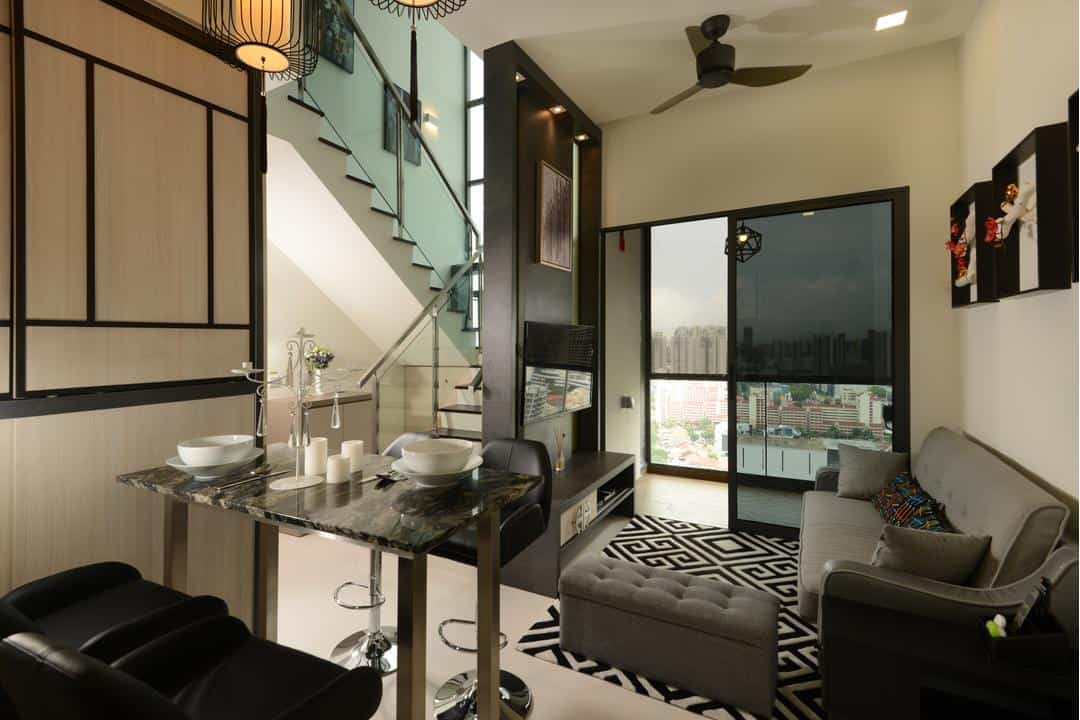 PhotoCr: CAD Associates
Traditional yet modern, this house exemplifies the perfect fusion between both. The success of this fusion is largely contributed by the modern interpretation of traditional lanterns. These lamps transforms your house into a posh chinese restaurant at dinnertime.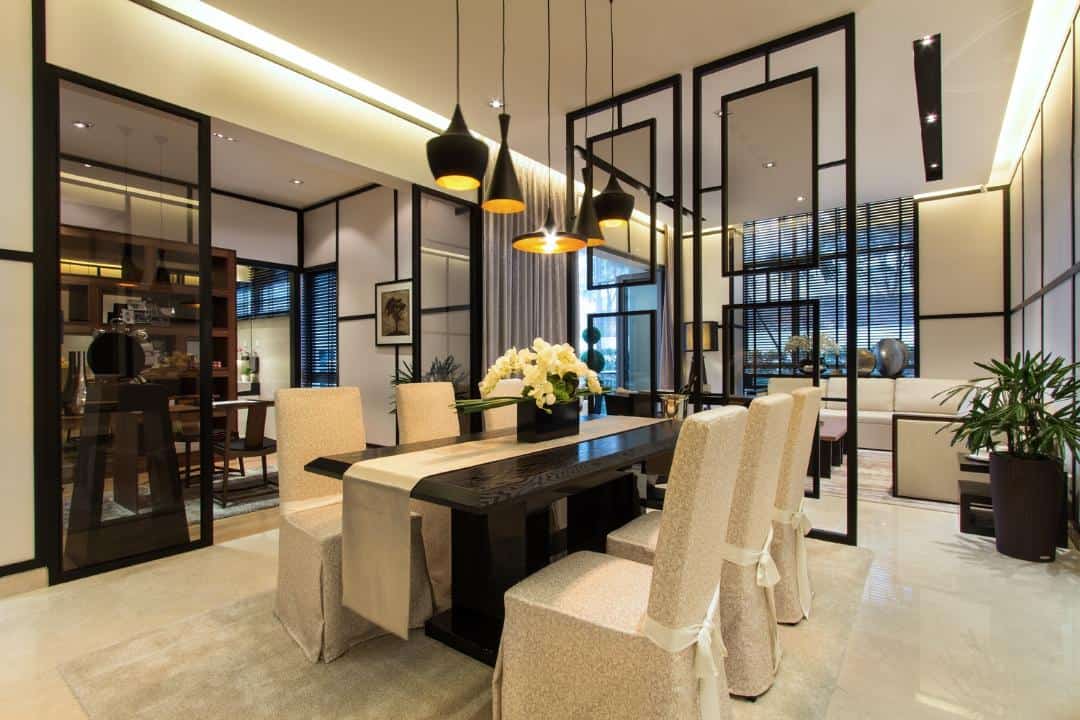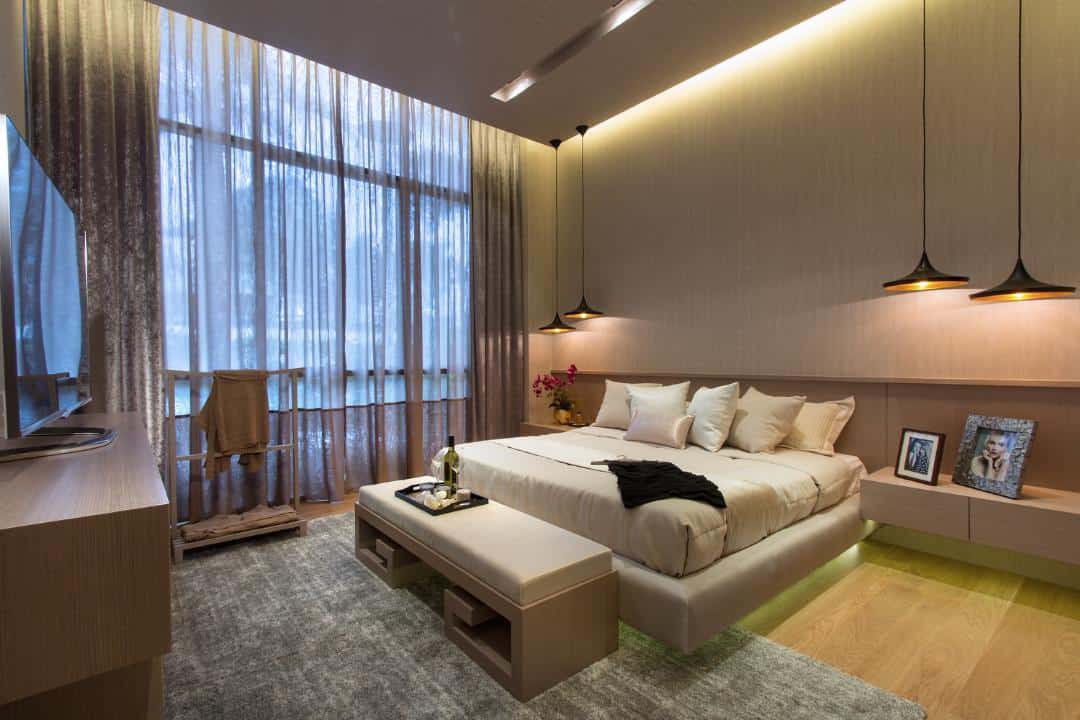 PhotoCr: Su Misura
The orientalism of this house is conveyed through the partition between the dining and living. It is further accentuated by the pottery inspired pendant lamps above the dining. The gold plated interior of the pendant lamps adds festivity to home. Owners mixed and matched to switch things up and the effect is a modern home with traditional elements.
Similar lighting options on Screed are: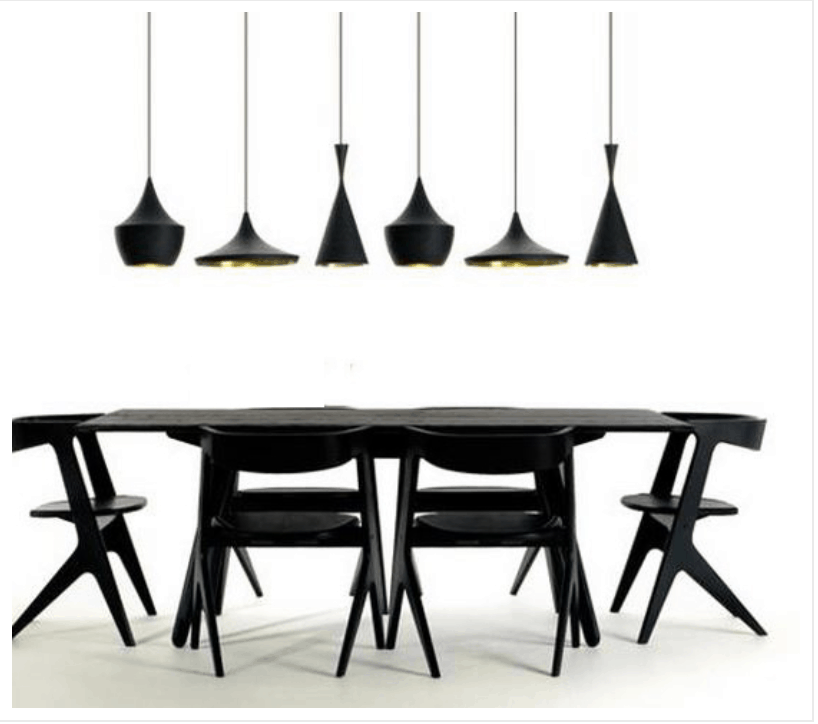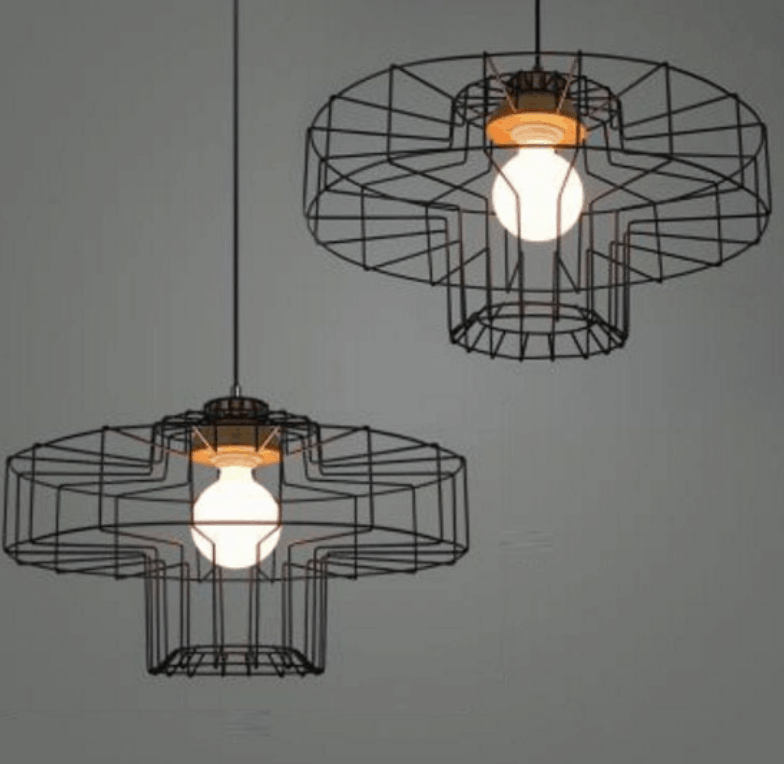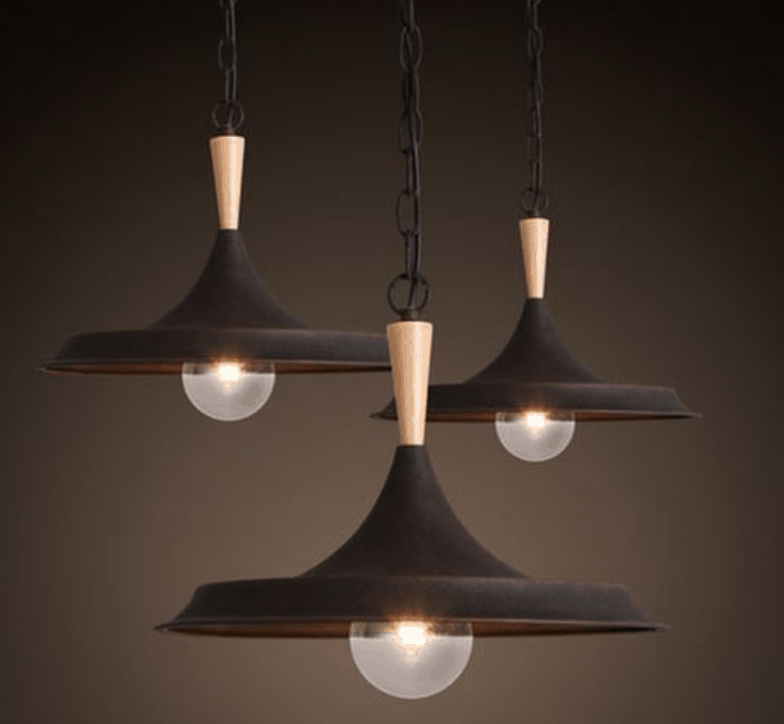 Left: JUDIT Arabic Inspired Lamps
Middle: HILDURA Bare Essence Web Hanging Lamp
Right: EGILHARD Broad Bell Hanging Lamp
The ZEN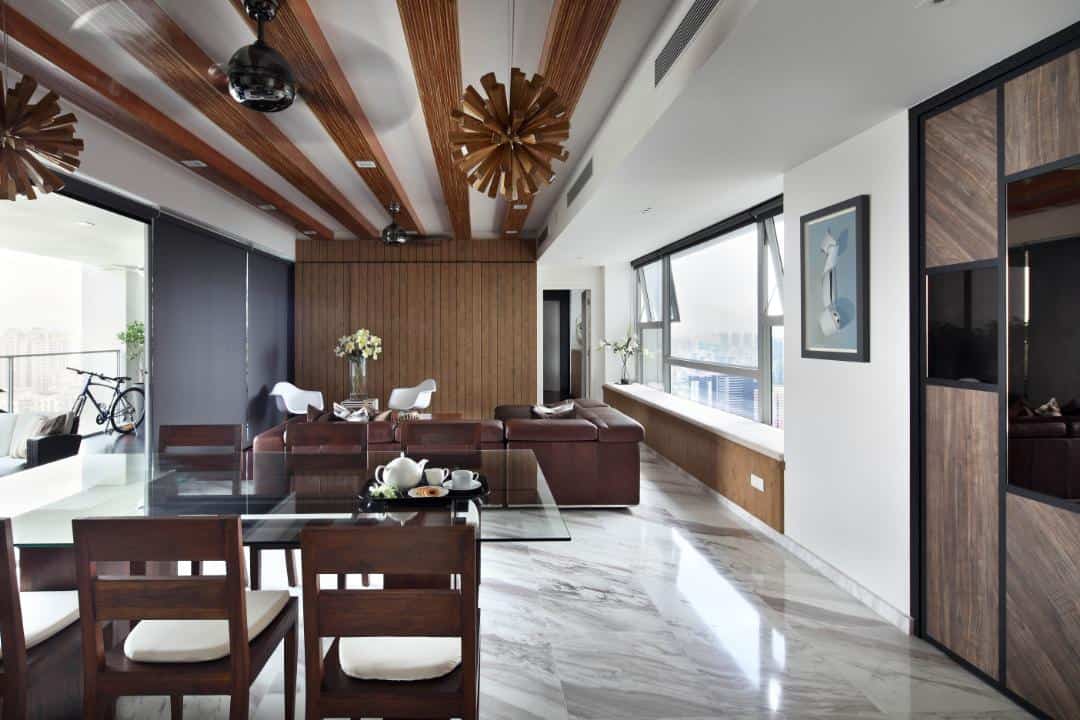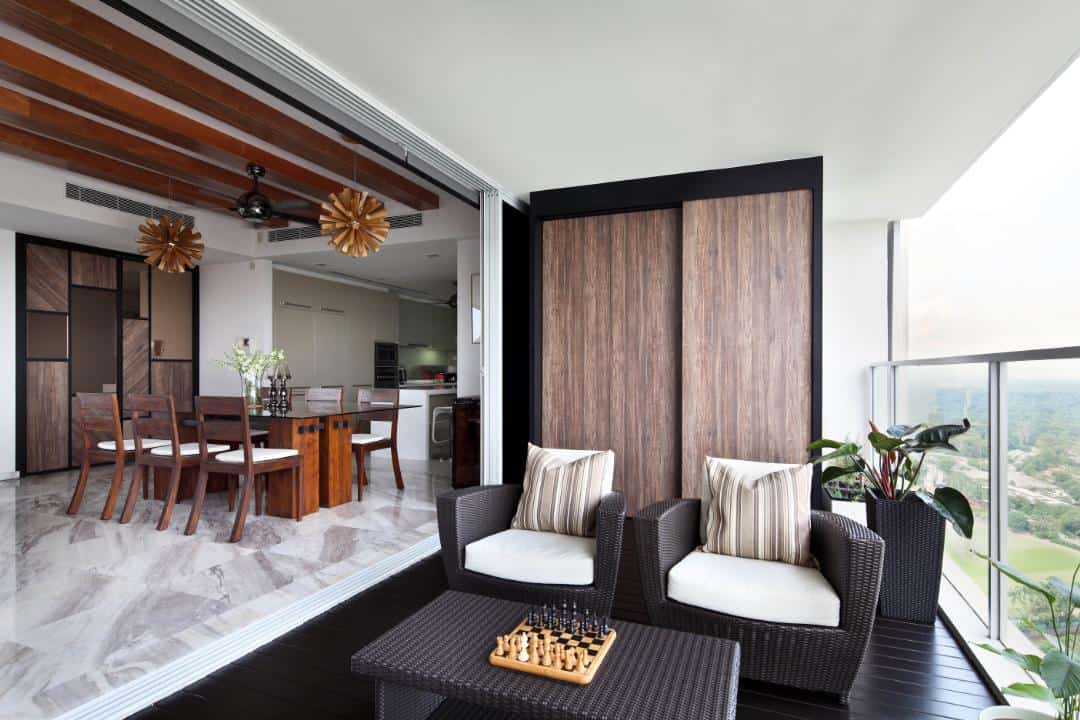 PhotoCr: DistinctIDentity
Heavy usage of wood makes sense for this balcony unit. Balconies bring the outdoors and serenity closer to home. To replicate the zen within the home, owners utilised plenty of dark brown. To match the dining, owners chose a wooden pendant lamp. The wooden planks are arranged to be exploding outwards, adding an air of excitement to the house.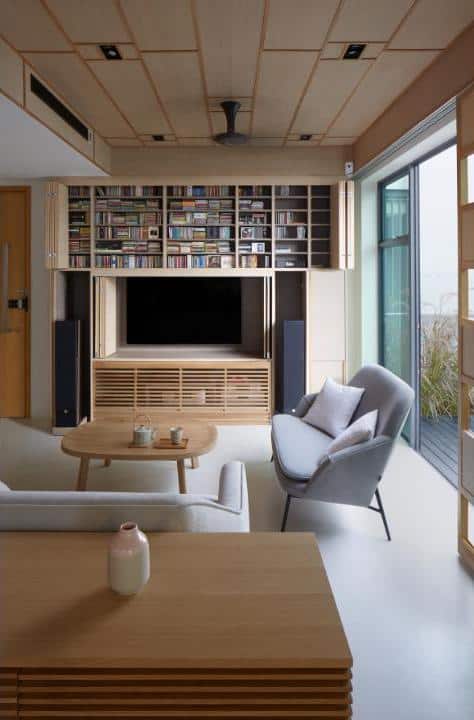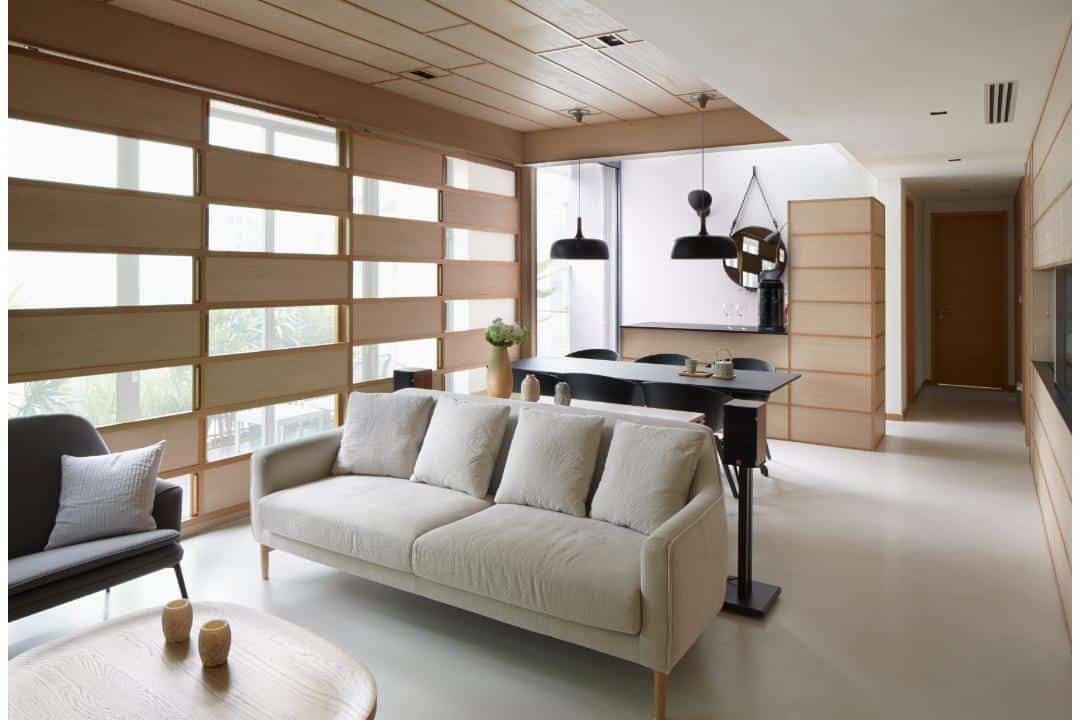 PhotoCr: A Solid Plan
To fully maximise the vertical space, the owners of this apartment built floor to ceiling cabinets for storage space. The neatly organised CDs don't add a sense of clutter but instead an artistic air to the apartment. To keep it simple, owners chose a simple black pendant lamp which goes well with the japanese minimalist house.
If you are looking for that wooden pendant lamp to complement your wood furniture, below are a few options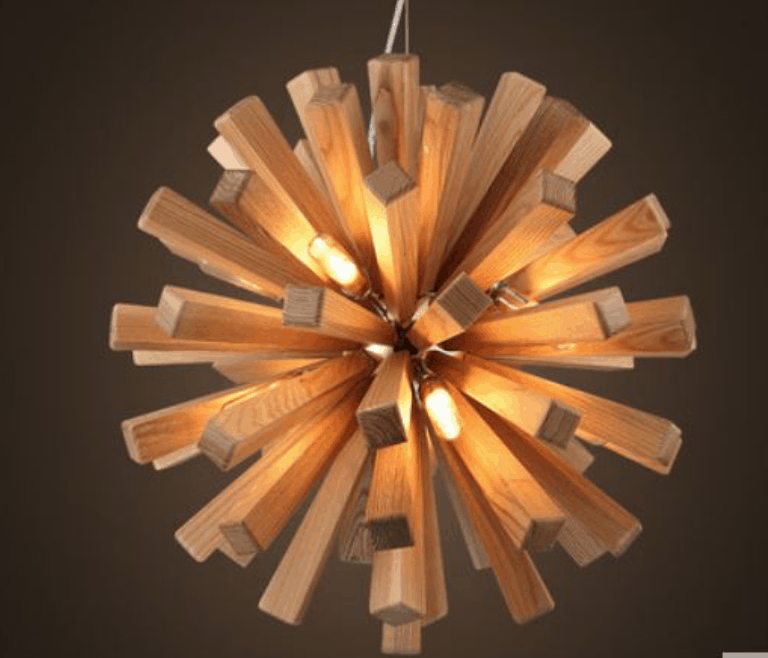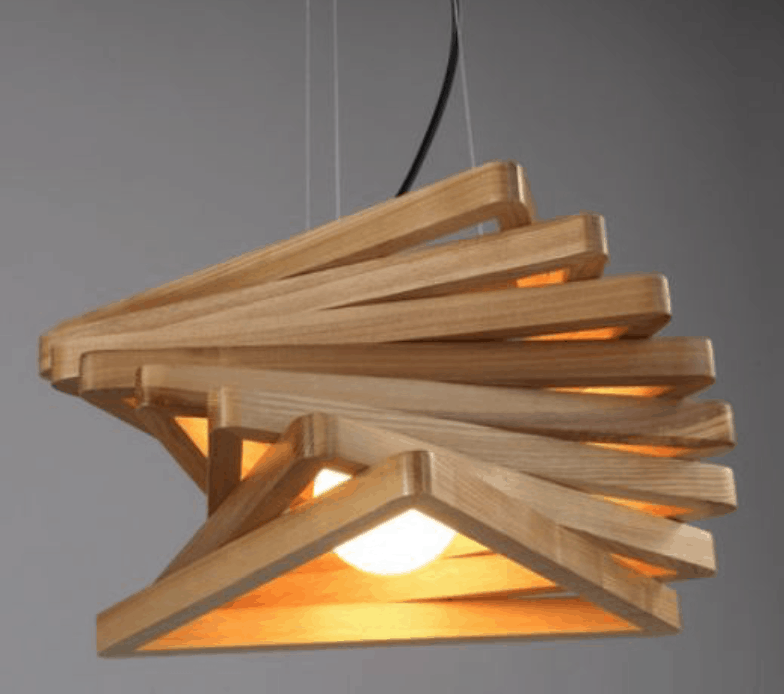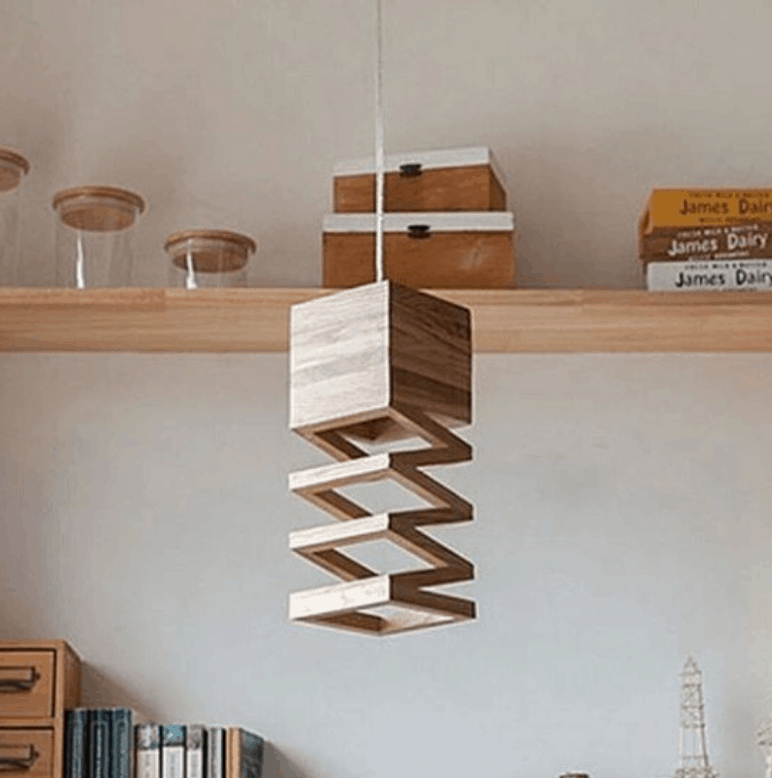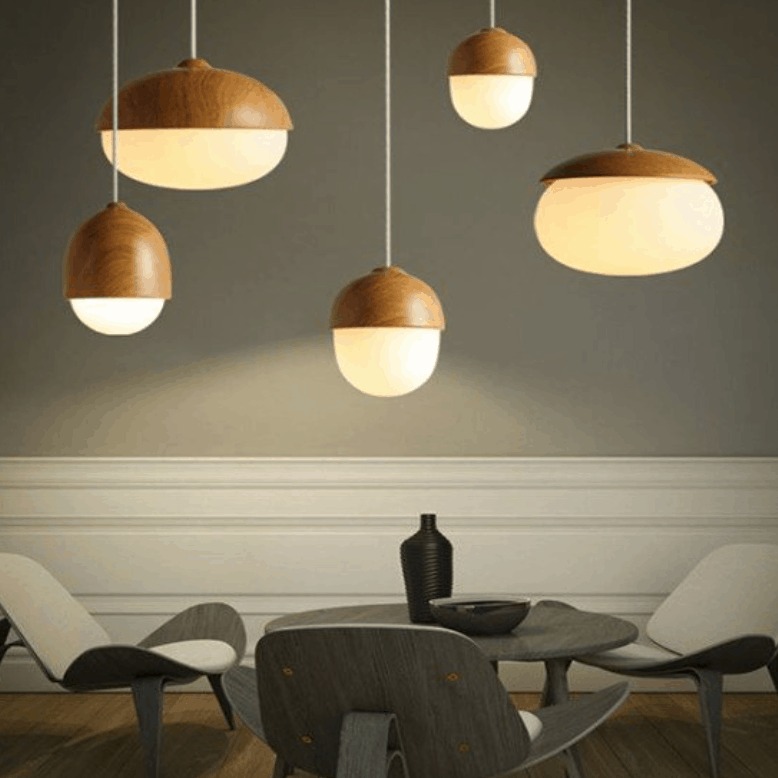 Top Left: RONJA Cosmic Origins Lamp
Top Right: VIGGO Triangulate DNA Hanging Lamp
Bottom Left: ENOK Stairs to Nevada Hanging Lamp
Bottom Right: MARTEN Acorn Hanging Lamp
The Modern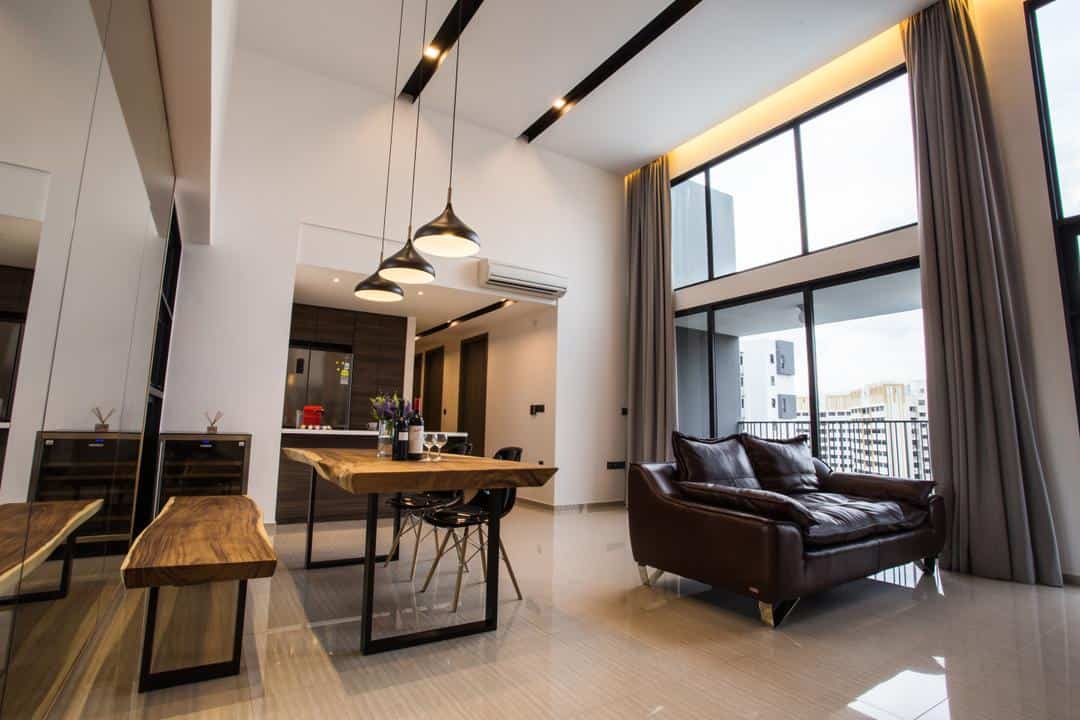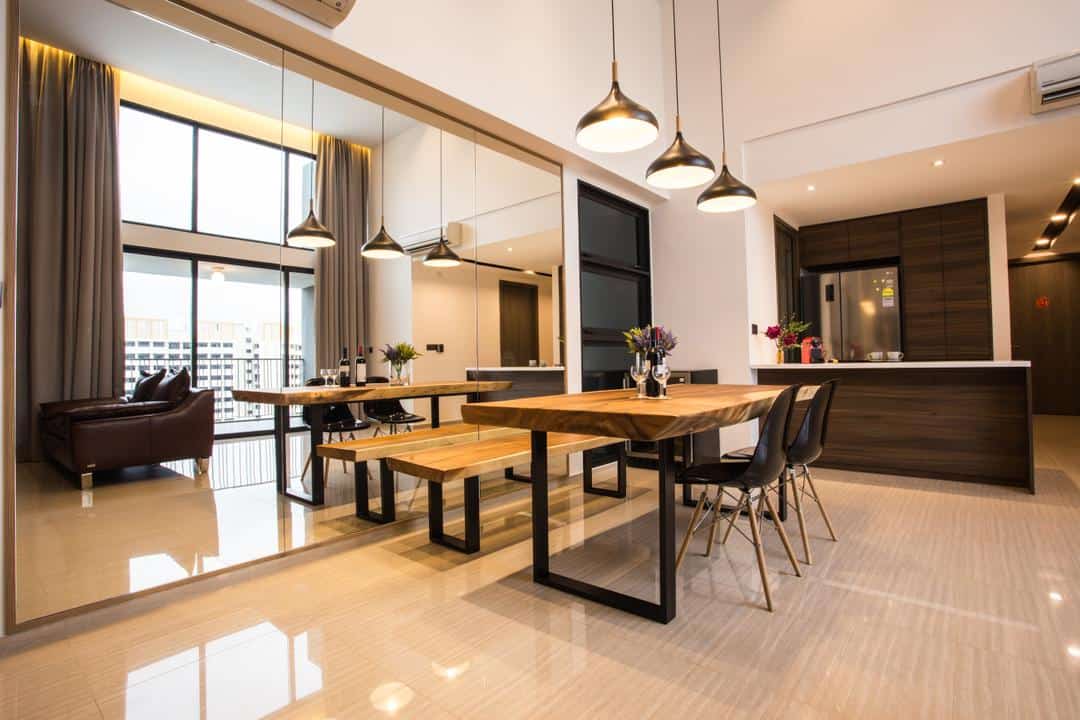 PhotoCr: Hometech Space Concepts
It may be hard to properly define the modern style as it is such an all encompassing term. What is safe to say though, is that modern houses have an eclectic mix of different elements, while maintaining its chic and sleek image. The house above used simple track lights to illuminate the house whilst the pendant lamps lie symmetrically above the dining. With such high ceilings, these pendant lamps can be considered necessity!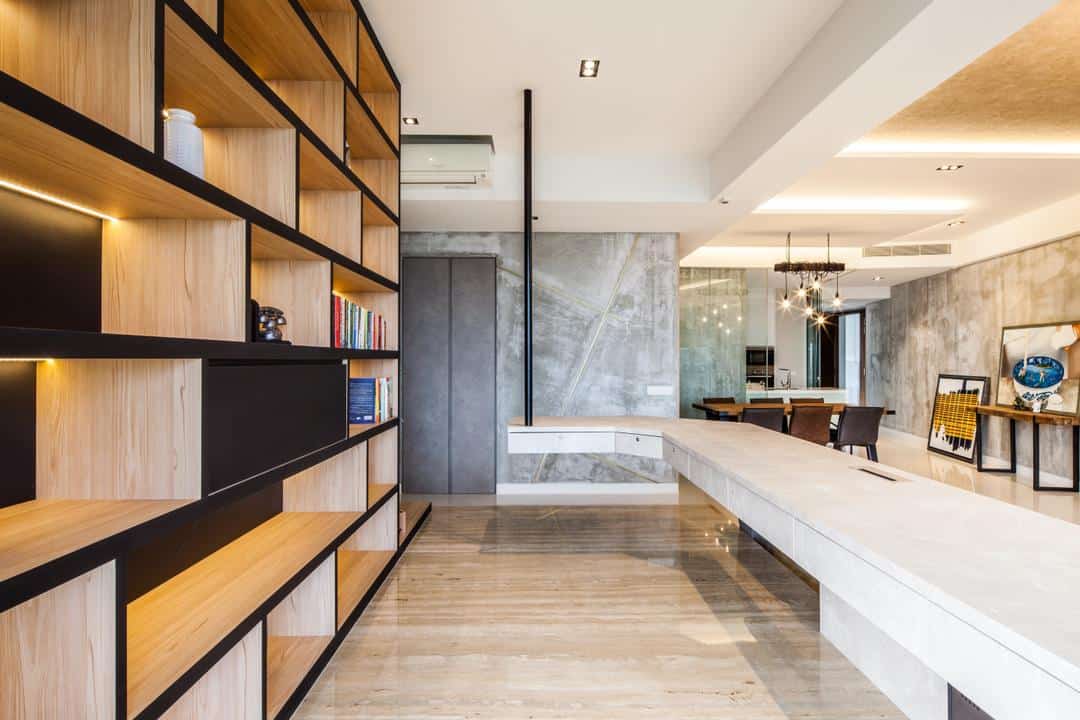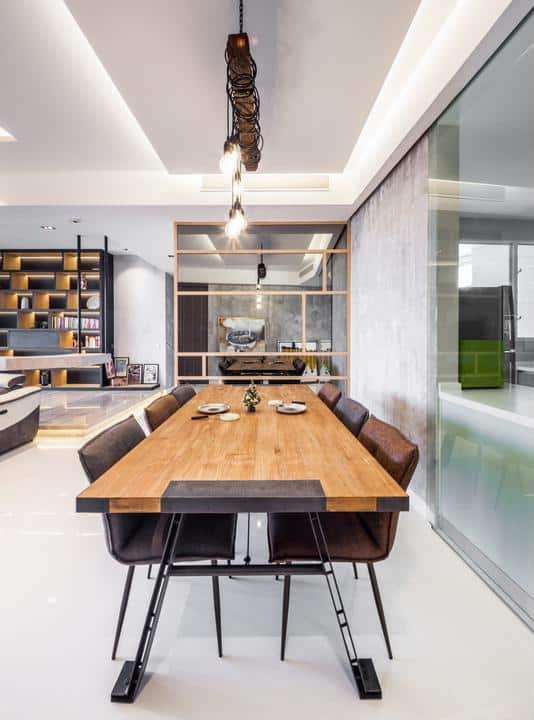 PhotoCr: Studio 20 Concepts
This house above infused almost all the trendy elements of late. Concrete, marble, black steel and wood are all utilised to achieve a cohesive whole. Fittingly of this creative concept, owners opted for hanging edison bulbs above the dining. These bulbs are rustic and industrial and concretises the home's status as a hip haven.
To achieve the modern look, these trendy lights below may well do the job.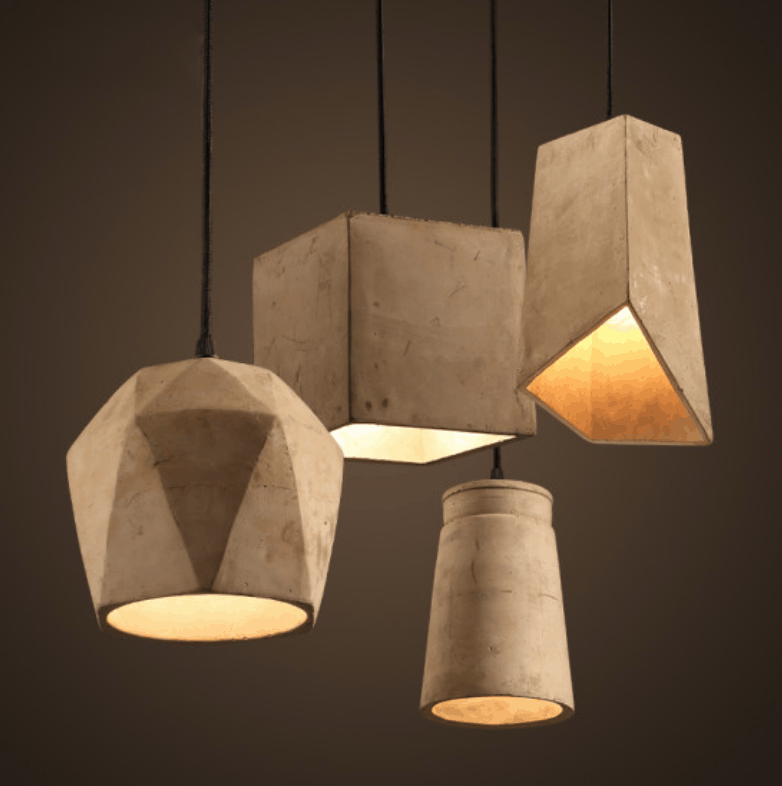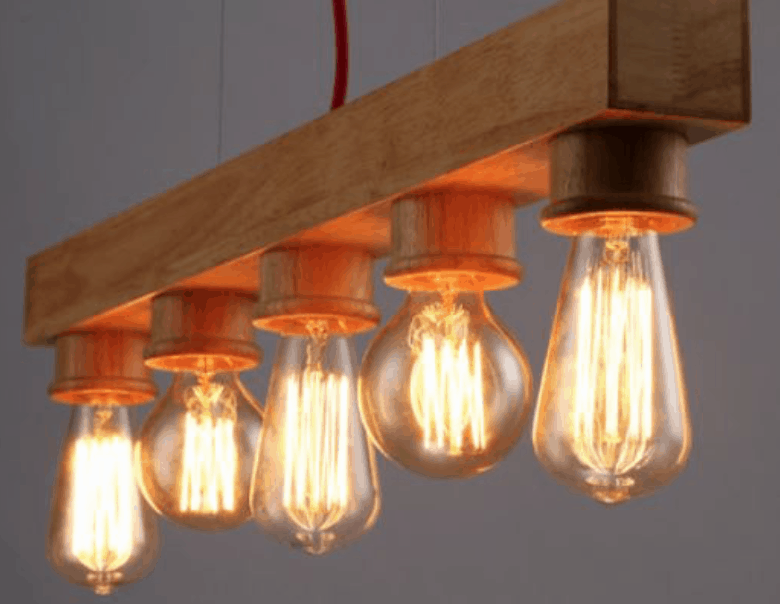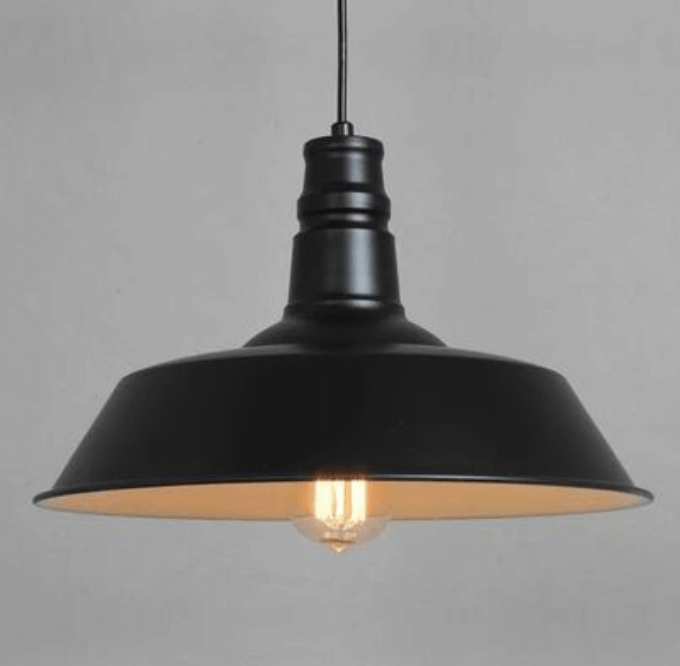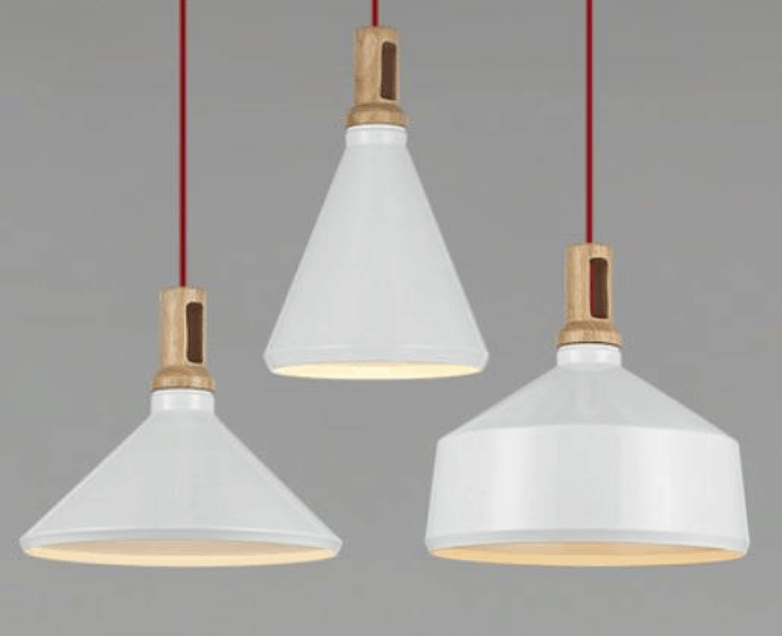 Top Left: ERNST Simple Cement Pendant Lamp
Top Right: ERLING Classic Wooden Bar 5 Head Lamp
Bottom Left: OSVALD Pendant Lamp
Bottom Right: ANTON Nature Laboratory Lamp
These featured condos with high ceilings come at a premium but they sure look well worth it. Even if these dream houses are out of reach now, at least we can emulate their well lit environments. Pendant lamps act not only as decorative light but also serve as functional ambient light. Browse our catalogue now to search for that perfect fit!